Parkland Students Honor Four Slain Seniors In Emotional Graduation Ceremony
by Julie Scagell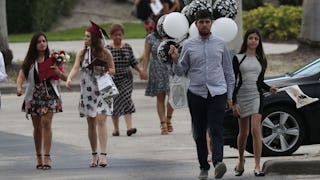 Image via Joe Raedle/Getty Images
The Marjory Stoneman graduation ceremony was a time for celebration and remembrance for all that was lost
The graduation ceremony at Marjory Stoneman Douglas High School was more emotional than most. It was there that 17 innocent lives were lost when a gunman opened fire this past February. This weekend, the graduating class honored four of the victims during the ceremony who should have graduated alongside them.
The school presented diplomas to the families of Nicholas Dworet, Joaquin Oliver, Meadow Pollack, and Carmen Schentrup on Sunday, teenagers that should have been walking across the stage themselves to receive the diplomas they'd worked so hard for. Instead, there were four empty chairs to remember them.
Several of the families spoke out about the somber and gut wrenching reminder of what their kids had to look forward to. Dworet's parents told NBC News that their son's friends wore his name on their caps to honor his life while another accepted his diploma on behalf of the family. He planned to attend the University of Indianapolis on a full swimming scholarship. Joaquin Oliver's mother accepted her son's diploma on his behalf wearing a shirt that read "This should be my son."
Carmen Schentrup's mother April tweeted, "For me, it is too painful to celebrate w/o Carmen. But I am proud of Carmen's friends & classmates on their accomplishments. They've overcome so much. I know they will cont to make positive changes."
Meadow Pollack's father, Andrew said he was too emotional to attend the ceremony. "It has nothing to do with them," Pollack told The Associated Press. "I've just been dead inside since Feb. 14." Pollack's brother attended the ceremony on their family's behalf, New York Daily News reported. Pollack was slated to attend Lynn University in Boca Raton.
Also in attendance at Sunday's ceremony was a surprise appearance by Jimmy Fallon, who was the commencement speaker. Among other pieces of advice for students; "The first thing is this: when something feels hard, remember that it gets better. Choose to move forward. Don't let anything stop you."
He also told the graduates, "You are not just the future – you are the present. Keep changing the world. Keep making us proud." He managed to create some levity during his speech, telling students, "Here's what will matter: You, the class of 2018, will have graduated. And you won't be classmates anymore. You'll be adults who Facebook search each other at two in the morning for the next 10 years."
Student leaders from March for Our Lives, a movement borne out of the tragedy at Stoneman Douglas, are about to kick off a summer tour encouraging kids to register to vote and also, to visit Florida congressional districts.
Unfortunately for the victim's families, graduation is just the first of many painful moments they will be forced to endure after losing their loved one. Missed birthdays, holidays, weddings, grandchildren, and all the little moments stolen from them will be a constant reminder of all that was lost that day.
The private ceremony for the almost 800 graduates was held at the BB&T Center, moving to the arena to accommodate the larger than expected crowd attending to celebrate and pay tribute to all the victims and their families. Reporters were not allowed inside.
"Requests from victims' families, survivors, students and loved ones convey an unmistakable desire by some for privacy on this day," the school district's website said.
This article was originally published on