Details Of Yesterday's Mass School Shooting Are Horrifying
by Megan Zander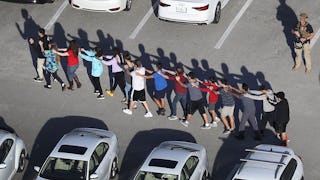 Image via Joe Raedle/Getty Images
At least 17 people killed and 19 injured in Florida high school shooting
Details are starting to emerge from the active shooter situation that took place yesterday shortly before three p.m. at Marjory Stoneman Douglas High School in Parkland, Florida.
According to Broward County Sheriff Scott Israel, at least 17 people lost their lives in the attack. The victims reportedly include both students and staff. Israel reported a dozen of the victims died inside the school building. Three more perished outside the school, and two lost their lives at the hospital. At least 17 more victims were taken to the hospital for treatment. One of the victims was a school football coach. The names of the victims are being withheld as law enforcement works to notify all of the families.
Students tweeted and texted from inside the school while the shooter was active, while families waited anxiously to find out if their children were safe.
The suspect, 19-year-old Nikolas Cruz, has been taken into custody. He appears to have acted alone. Israel disclosed Cruz is a former student of the school who was expelled for undisclosed disciplinary reasons. "This morning whether when he woke up he was a student I don't know," said Israel. Police report that Cruz was alledgedly armed with an AR-15 and multiple magazines when he was taken into custody. Investigators believe he may have pulled the fire alarm to try and draw out more potential victims. No motive has been released yet, but Israel said police are investigating Cruz's online and digital profile, which he called "very, very disturbing."
An assault rifle and the possibility that the shooter may have had mental health issues. How many times will we see this exact same scenario lead to murder before there's real policy change? In the meantime, Israel made a plea to the press in hopes of preventing another school shooting.
"If you are on a website and you know something, or you've seen something –you see a person with rifles and weaponry, you see something that's not right, you owe it to your family, you owe it to your community and you owe it to law enforcement to make this a safer nation by calling up someone tonight," he said. "Call up the FBI, call up the Broward Sheriff's office — call up someone tonight and let them know you have information that something's not right. You can prevent a major tragedy like this devastation that happened in Parkland tonight." Since the shooting, authorities have unearthed dozens of pictures Cruz shared on social media, showing off guns, knives, and other weaponry.
Florida Attorney General Pam Bondi says the state is offering to do what it can for the students and the victims families. "We will pay for the funeral expenses of these poor victims and do everything we can to help their families," she said. "The state of Florida, we will pay for counseling — for the surviving victims, we will pay for students who need counseling."
According to Everytown for Gun Safety, yesterday's living nightmare marks the 18th shooting to take place in a school this year. What will it take to make it the last?
This article was originally published on