Fan Pays Mark McGrath $100 To Break Up With Her Boyfriend For Her
by Madison Vanderberg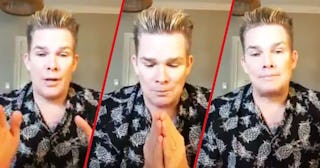 Mark McGrath/Cameo
A woman enlists Mark McGrath from Sugar Ray to break up with her boyfriend for her
File this one under, "weird, but go on?" A woman named Cheyanne paid Mark McGrath from the band Sugar Ray $100 to break up with her boyfriend Bradyn via video message. The video has gone viral, mostly because McGrath was so damn nice and did a surprisingly great job breaking the hard news to Bradyn.
There's this app called Cameo where you can pay a celebrity or other notable person to record a video message for a small fee. Most people use Cameo to send their friends a birthday message from their favorite famous person. For example, for $350 Lisa Vanderpump will record a video message for your Vanderpump Rules-loving girlfriend. Or you could get iconic '80s actor Steve Guttenberg to do a fun video for $125. It's a cute thing to send to your pal, but we highly doubt that many people use Cameo to create breakup videos, until now.
For the low price of $100, Cheyanne booked McGrath for a two-minute breakup chat, and despite how bizarre this entire situation is, the '90s god handled it with grace.
"This is a little difficult for me to say cause it's the first one of these I've done but [Cheyanne] wants you to know that you mean a lot to her — you mean the world to her — but she's having difficulty staying in this long-distance relationship," McGrath explained to the poor boyfriend.
McGrath was extremely empathetic and even went on to say how hard long-distance relationships are, citing his own experiences on the road away from his wife.
"It's tough. I've been on the road for years, and I've been with my wife a long time, and the biggest arguments, the biggest obstacles in our relationship is the distance between us," he explained. "It makes it very difficult when we're on the road and it's hard."
The video took a bit of a detour when McGrath revealed that poor Bradyn is currently working on his college thesis, making this a slightly shitty time to get dumped, but ya boy McGrath breezed through that as well.
"Life goes on. I'm sure there are big things ahead of you in the future, Bradyn," he said. "Do your best on that thesis, man…If you're working on a thesis you've got a good life ahead of you."
But then, things took an even weirder turn. Cheyanne also enlisted disgraced White House Communications Director Anthony Scaramucci to deliver a breakup video to Bradyn as well!
For $100, Scaramucci filmed a one minute video and told Bradyn that if the breakup has him feeling down, "just think about me getting my ass shot up in the White House" for "perspective," and then Scaramucci's wife chimes in off-screen to say "and also when I threatened for divorce."
Well, if there's anything Bradyn can take solace in, it's that the lead singer of Sugar Ray and The Mooch have his back. The internet is wild.
This article was originally published on