Mark Ruffalo Answers All the Questions Female Movie Stars Usually Get
by Laurie Ulster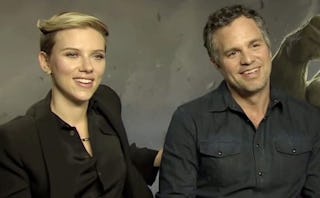 It's true: If you watch enough interviews with Hollywood stars, you'll see that men get asked about their roles and their challenges, while women get asked about their costumes, make-up, and weight-loss and skin-care routines. Check out this collection of questions for women walking the red carpet:
So Cosmopolitan UK decided to flip things around. They sat down with co-stars Mark Ruffalo and Scarlett Johansson, and then swapped out the questions. "Feel free to embrace your feminine side, Mark," said the interviewer. "I do, every single day," he replied.
Johannson was asked if she did her own stunts, a question I don't think I've ever heard anyone ask an actress, while Ruffalo had to talk about the outfit he was going to wear on the red carpet, the pressure he felt to slim down and get in shape for the part, and what he ate. While the questions were pretty standard for movie actresses, the answers weren't.
Interviewer: "Did you feel much pressure to slim down, get in shape, go on a diet, Mark?"
Mark Ruffalo: "Not really!"
Scarlett Johansson: "Ate a bunch of peanut butter, did some push-ups, right?"
Mark Ruffalo: "I have a prison routine that I do. I don't like to go to the gym very much if I can help it. I want Banner to look like a normal person too, you know?"
(Actresses pretty much don't want to look like normal people, not if they want to keep working.)
Johannson talked about her character, while Ruffalo talked about removing make-up.
This is all part of a larger movement. If you're a fan of red carpet arrivals before big awards shows (like I am), then you may have noticed what happened at this year's Oscars: Reese Witherspoon actually got to talk about why she has her own production company instead of who made her shoes. Amy Poehler, who co-hosted the Golden Globes with Tina Fey, launched a campaign to improve the questions women get asked on the red carpet, asking fans to suggest alternatives using the hashtag #AskHerMore, which prompted a lot of talk about the discrepancy between questions for the men and the women at the same events.
Is it fun to see the tables turned? You bet it is ….
This article was originally published on