Mark Zuckerberg Announces Baby Number Two With A Beautiful Tribute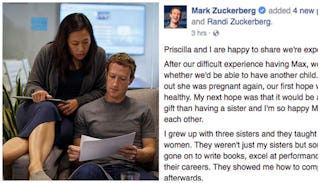 Mark Zuckerberg's wife is pregnant with their second child
When Mark Zuckerberg announced that his wife Priscilla was pregnant with their first child, he did so with a refreshingly honest post about their fertility struggles that touched millions. Today, he announced Priscilla is pregnant with their second child, and his post is a really beautiful tribute to family and women.
"After our difficult experience having Max, we weren't sure what to expect or whether we'd be able to have another child," he writes. "When Priscilla and I first found out she was pregnant again, our first hope was that the child would be healthy. My next hope was that it would be a girl. I cannot think of a greater gift than having a sister and I'm so happy Max and our new child will have each other."
There are many couples who have struggled with infertility who can relate to this wonderful surprise. And giving your child a sibling is a sweet bonus, too. Zuckerberg speaks lovingly of his siblings — and Priscilla's.
"I grew up with three sisters and they taught me to learn from smart, strong women. They weren't just my sisters but some of my best friends," Zuckerberg writes. He tags his sister, Randi Zuckerberg, in the announcement. "They've gone on to write books, excel at performance, music, sports, cooking and their careers. They showed me how to compete and still laugh together afterwards."
He then writes about Priscilla's relationship with her two sisters, and how "they have so many inside jokes — the kind only siblings can understand." It's true for many of us — nobody knows us like our sisters.
He ends his post with a beautiful tribute to "strong women": "We are all better people because of the strong women in our lives — sisters, mothers and friends. We can't wait to welcome our new little one and do our best to raise another strong woman."
Their first daughter, Max, was born in November, 2015.
This article was originally published on