Mark Zuckerberg Celebrates Birth Of Daughter, Pledges 99% Of Facebook Shares To Charity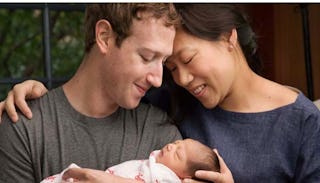 Mark Zuckerberg and Priscilla Chan just announced the birth their healthy baby daughter on Facebook. As if that wasn't a big enough announcement, Zuckerberg then proceeded to pledge 99% of the couple's stock in the company to charity — over the course of their lives.
That's currently 45 billion dollars.
Parenthood already looks good on Zuckerberg and Chan. Here's the announcement:
Priscilla and I are so happy to welcome our daughter Max into this world!
For her birth, we wrote a letter to her about the world we hope she grows up in.
It's a world where our generation can advance human potential and promote equality — by curing disease, personalizing learning, harnessing clean energy, connecting people, building strong communities, reducing poverty, providing equal rights and spreading understanding across nations.
We are committed to doing our small part to help create this world for all children. We will give 99% of our Facebook shares — currently about $45 billion — during our lives to join many others in improving this world for the next generation.
Thank you to everyone in this community for all your love and support during the pregnancy. You've given us hope that together we can build this world for Max and all children.
The beautiful letter begins, "You've already given us a reason to reflect on the world we hope you live in. Like all parents, we want you to grow up in a world better than ours today." We all have the same hopes for our children: that their lives will be better, richer — than ours. Zuckerberg and Chan may have more than the rest of us, but we can all relate to this wish. He continues on describing the world in which he wants his daughter to live: one with less poverty, more knowledge, better health. He writes, "Medicine has only been a real science for less than 100 years, and we've already seen complete cures for some diseases and good progress for others.As technology accelerates, we have a real shot at preventing, curing or managing all or most of the rest in the next 100 years."
Zuckerberg and Chan are literally committing to making a better world for their daughter, right after her birth, by promising to pledge their wealth and resources to make it so. That is simply amazing.
"Our hopes for your generation focus on two ideas: advancing human potential and promoting equality. Advancing human potential is about pushing the boundaries on how great a human life can be… Promoting equality is about making sure everyone has access to these opportunities — regardless of the nation, families or circumstances they are born into." Zuckerberg and Chan are pledging a complete devotion to making the world a better place, on behalf of their daughter. We may not all have even a shred of the power they have — but we can collectively have the hope. Hope that such a sweeping declaration can inspire others to follow suit, and inspire all of us to do whatever we can — in whatever capacity we are able — to secure a better future for our children and humanity as a whole.
You can read the whole amazing letter here.
This article was originally published on