Mark Zuckerberg's Latest Photo Sends An Important Message About Equality In The Home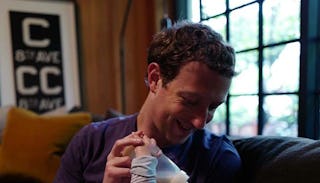 Fatherhood looks good on Mark Zuckerberg.
He and wife Priscilla Chan used their baby announcement to highlight the couple's struggle with infertility. It was refreshingly honest and probably made a lot of struggling couples feel less alone.
Then he used their baby announcement to let the world know the couple would be donating 99% of their Facebook shares to charity, over the course of their lives.
He's used his enormous platform to tout the importance of vaccines and paid maternity/paternity leave. His latest adorable snap is reinforcing the importance of fathers being actively involved in raising children — and making a more equal household.
#LeanInTogether is a movement started by Lean In, the foundation that Sheryl Sandberg helped create. It encourages men to take an active role in supporting women's rights. "#LeanInTogether celebrates the important role men play in creating an equal world. Reaching equality is not just good for women — it is good for men as well," Sandberg explained in a Facebook post this week. "Children with active fathers are healthier, happier, and more successful. Men who are 50/50 partners have stronger marriages. And diverse teams at work produce better results."
Mark Zuckerberg is not you or I, sharing a sweet moment with a couple hundred of our Facebook acquaintances. He has 54 million Facebook followers. The image has been liked over one million times in less than a day, and shared 13,000 times. The CEO of Facebook knows, more than anyone how powerful a social media reach that large is. And he's using his platform to send positive, powerful images of fatherhood and equality in the home.
The more men we see actively engaged in their role as fathers, the better. The more we allow businessmen to embrace that role, and be defined just as much by their fatherhood as by their careers — the better for everyone. We are finally turning a corner, where raising children and maintaining a household isn't an innately female expectation. The more we acknowledge the importance of fatherhood, the better it is for all women. Similarly, the more men outwardly embrace their roles as fathers, the quicker the expectations will start shifting towards equality.
Leaning in together is good for everyone.
This article was originally published on