Mark Zuckerberg's Baby Announcement Is Refreshingly Honest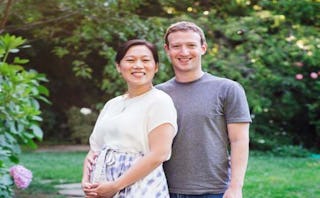 Mark Zuckerberg just posted a very exciting Facebook status update. He and his wife Priscilla are expecting a baby girl. In a rare glimpse into his personal life, the Facebook founder shared some information many of us can relate to: the couple struggled for years to conceive.
"We want to share one experience to start. We've been trying to have a child for a couple of years and have had three miscarriages along the way. You feel so hopeful when you learn you're going to have a child. You start imagining who they'll become and dreaming of hopes for their future. You start making plans, and then they're gone. It's a lonely experience. Most people don't discuss miscarriages because you worry your problems will distance you or reflect upon you — as if you're defective or did something to cause this. So you struggle on your own."
Those of us who struggled for years to conceive or who have been through pregnancy losses can appreciate Zuckerberg's candid way of speaking about their experience. When you've been through the experience of a pregnancy loss (or several) those losses stay with you – and they are very close to you when you get pregnant again. Zuckerberg has a huge reach, and it's amazing he's using it to send such an important message. Yes, he's announcing their good news, but he's also comforting those who are going through the same situation. That's powerful.
Pregnancy loss is devastating, stressful, and ultimately isolating. Sharing our stories with each other is so important. As Zuckerberg says, "In today's open and connected world, discussing these issues doesn't distance us; it brings us together. It creates understanding and tolerance, and it gives us hope."
Congratulations Mark and Priscilla. Enjoy your pregnancy! And may your announcement bring hope to those trying to conceive a child.
This article was originally published on