John Oliver Trolls Mike Pence With A Book About A Gay Bunny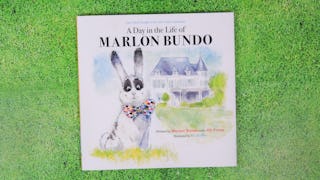 Image via Chronicle Books
John Oliver's book about Marlon Bundo the bunny is already outselling the version by Mike Pence and his family
If you're familiar with the show Last Week Tonight hosted by John Oliver, you know that he's a good-natured troll who enjoys shedding light on vile things and also, turning them into opportunities to do some good in the world.
In Sunday night's episode, Oliver gave a rundown on Vice President Mike Pence and his abhorrent views on the LGBTQ community, including his feelings on gay "conversion" therapy. To sum it up, Pence has backward, hateful views, and in some ways, he's even scarier than Donald Trump — because he cloaks his vileness in a reasonable-seeming outer exterior that makes it less obvious that he's actually horrible.
Why, his family even has an adorable pet bunny named Marlon Bundo, and Pence's daughter Charlotte and wife Karen co-created a children's book all about the little guy. Marlon Bundo's Day in the Life of the Vice President is now available for purchase, and in true John Oliver fashion, he wanted to make sure to put a damper on the book's sales.
By writing an even better one.
A Day in the Life of Marlon Bundo tells the story of a boy bunny who happens to fall in love with another boy bunny named Wesley. The book's publisher, Chronicle Books, says in a press release provided to Scary Mommy, "Instead of following around the Vice President, A Day in the Life of Marlon Bundo follows a day in the life of the BOTUS, as he falls in love with another bunny, Wesley."
It's unbelievably adorable. The bunnies meet and fall in love, only to be temporarily thwarted by the Stink Bug's hateful policies. Sound familiar?
"The two decide to wed, only to be told by the Stink Bug in charge that same-sex marriage is not allowed." The Stink Bug, of course, sports a white hair-do and red tie we might find a little familiar.
Thankfully, love wins in the end. "When Marlon, Wesley and their supportive animal community realize that they can choose who is in charge of their society, they vote out the Stink Bug and the couple is married surrounded by their friends."
"With its message of tolerance and advocacy this children's picture book beautifully explores issues of marriage equality and democracy," the release reads.
It wasn't enough for Oliver to merely troll Pence with his very own book (that's already outselling the original, I might add, and is also #1 for sales on Amazon). He decided to up the ante and make the book an even bigger force for good. All profits from its sale will be donated to two very worthy causes — The Trevor Project and AIDS United.
The Trevor Project provides crucial and life-saving services in crisis intervention and suicide prevention for LGBTQ youth. "This book has an important message for all LGBTQ youth: That they are worthy of love and should be proud of who they are. That's a message we can all believe in," said Amit Paley, the CEO of The Trevor Project. "We are so grateful to be the beneficiary of books sold. The funds raised through the sales of this book will help us continue to operate our 24/7 life-saving services for LGBTQ youth."
AIDS United is an organization committed to ending the AIDS epidemic in the U.S. through research grants and advocating for good HIV/AIDS-related policy. "We are so grateful to all those involved in the development of this story, and on behalf of the 1.1 million people living with and at risk for HIV in the U.S., we thank them for their generous support," said AIDS United CEO Jesse Milan, Jr. "By celebrating Marlon Bundo's differences, the book's authors have created a powerful tool for teaching young people the value of diversity."
Basically, two causes Pence would probably not be the biggest fan of — which is exactly the point.
There's even an audio version of the book read by Jim Parsons with special guests Jesse Tyler Ferguson, Jeff Garlin, Ellie Kemper, John Lithgow, Jack McBrayer, and RuPaul. It's available on Audible and the book itself can be purchased on Amazon or at Betterbundobook.
This article was originally published on