Maroon 5 And Cardi B's New Video Features A Ton Of Badass Women
by Thea Glassman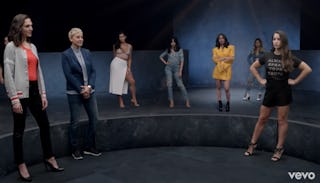 Image via YouTube
Maroon 5 and Cardi B's new video is jam-packed with female superstars
Honestly, if you told me that Maroon 5 and Cardi B collaborated on just about anything I'd be completely sold. But add on the fact that they incorporated so, so many amazing women into their new music video "Girls Like You," and it's officially next level gold. Seriously, this music video will make you weep tears of pure feminist joy.
There are a ridiculous amount of celeb cameos in "Girls Like You," so let's dive right in. You should probably (definitely) listen to Adam Levine's silky smooth lyrics as we go.
There's the queen of gymnastics and all things social justice, Aly Raisman.
Wonder Woman herself, Gal Gadot.
Oh hey, Mary J. Blige.
J.Lo made an appearance. Side note: has there ever been a moment where this women did not look completely fierce? The correct answer is no, never.
I mean, you can't really make a song about trailblazing women without Ellen.
Levine ended the song with a shot of his wife and baby. The tears are starting to come….
And there's also a moment where all the women stand together, looking strong and proud and in solidarity. Yup, the tears are officially here.
If you're currently feeling all the ~feelings~ right now, you're not alone. The stars of the video took to social media to share just how excited they were to be a part of the project.
Here's the entire list of incredibly impressive women in order of appearance:
Camila Cabello (singer)
Phoebe Robinson (comedian, writer, actress) Aly Raisman (Olympic gymnast) Sarah Silverman (comedian, actress, writer) Gal Gadot (actress) Lilly Singh (YouTuber, comedian) Amani Al-Khatahtbeh (tech entrepreneur, author) Trace Lysette (actress) Tiffany Haddish (actress, comedian) Angy Rivera (activist, writer) Franchesca Ramsey (writer, activist, YouTuber) Millie Bobby Brown (actress) Ellen DeGeneres (television host, comedian) Cardi B (rapper) Jennifer Lopez (singer, actress) Chloe Kim (Olympic snowboarder) Alex Morgan (Olympic soccer player) Mary J. Blige (singer, actress) Gal Gadot (repeat) Millie Bobby Brown (repeat) Franchesca Ramsey (repeat) Beanie Feldstein (actress) Jackie Fielder (activist, writer) Jennifer Lopez (repeat) Danica Patrick (race car driver) Ilhan Omar (politician) Camila Cabello (repeat) Elizabeth Banks (actress) Ashley Graham (model) Aly Raisman (repeat) Rita Ora (singer) Behati Prinsloo (model)
About to play this song on repeat while pretending all these women are my very best friends.
This article was originally published on