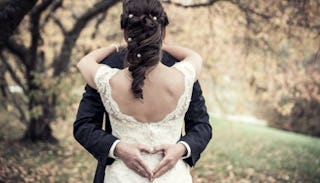 Simon Dannhauer / iStock
Nine years ago, I married my wonderful husband. Those nine years have been some of the happiest of my life. Three children, many adventures at home and abroad, changes to our family, additions, dreadful losses, three house moves and more takeaway curry and The X Factor than either of us care to admit.
I remember the day so clearly, the most wonderful, happy occasion with so many treasured family and friends. My parents organized most of it. My husband hadn't even attended a wedding before; he walked around in a daze (helped by the impromptu bachelor party reunion the night before). He shouted his vows he was so nervous; I sobbed through mine.
I feel a bit wobbly when I look at those photos. In the literal sense, I've had three children, and it is a bit depressing to look at beautiful photos of us younger, slimmer, less grey. But it's not that really; it's the faces in the photos that are now missing from our lives, the grandparents (my grandmother, who said she'd had a wonderful day and that the bride looked beautiful, but the only person missing was "Our Alison" and had I seen her?) and the prouder than proud mom of the groom, looking stunning in her hat, the one I swore to never tell anyone how much it cost (and I never will, possibly because I'm not sure I fully remember, partly due to the bottle of wine we enjoyed over lunch when we went shopping for it).
The absent friends and family make me feel so determined to wring every last drop out of things, but that's not always easy when you wake up totally wrung out before the day even starts. Life was simpler back then. I knew it all, marriage, parenting, the lot.
The night before my wedding, I was at home with my parents. In the home I grew up in, watching The Muppets Christmas Carol (as was our tradition) about to sleep in my sister's room (just like I used to when I was scared as a child when it was blowing a gale and rattling the roof tiles), my mom dropped in a little gem as she gave me my something old (her own own mother's engagement ring):
"You think you love him more than anything now, but just wait a few years when the shine has worn off and the special days are a memory. Then you'll know what love is."
My sister and I looked at my dad, who had taken his socks off (that's his signal that the heat has been on too long), balancing a Fred Flintstone coffee mug on his chin, attempting to sing "There goes Mr. Humbug…" and we collapsed in fits of laughter.
But the more time we spend together, the more that quote makes sense to me (minus the sock/cup combo). So, to my husband, I again affirm our vows:
To Have and To Hold
Remember the days when we used to hold hands everywhere we went, when we spent evenings curled up on the sofa in a loving embrace?
Me neither.
As I type this, you're balancing on the edge of the bed pretending to be asleep, with a 4-year-old sprawled out like a starfish between us. There's a 2-year-old trampolining on my middle and a 6-year-old narrating his match on FIFA on the armchair 6 feet away. To have and to hold? I couldn't reach you if I tried.
For Better or Worse
We've so far had lots of the former and some of the latter thrust upon us during the life of our marriage. And I'm not just referring to my cooking. On the days that have been filled with joy, it's been a pleasure to share every minute with you. Though you've ruined every photograph we've taken with your "face" (I'm really not being rude. He can't have his photo taken without "the face," and all our wedding photos look like he's holding in a fart).
Some of the days of our marriage, I wish we'd never had to endure; loss so painful there haven't been words. I really think the days that test you the most are what makes us, us—those days you've propped me up, made me laugh, and carried me through despite being in pieces yourself. Don't ever change, even the stuff that makes me roll my eyes. I couldn't bear it.
In Sickness and in Health
I've lost count of the amount of times you have been awkward in front of a medical professional, the number of antenatal cubicles you have made me laugh in, and how many times you have held my hair back. I still remember the Great Chicken Pox of 2007, the Hand Foot and Mouth Outbreak of 2006, the time I broke my arm after I slipped in the shower and fell down the toilet (literally down the toilet), the time we took you to the local hospital to have the rubber from your pencil taken out of your inner ear, the time I cracked a rib coughing, and a few times we were well too.
There have been times when it has been inappropriate to laugh (sorry about those), and times when you've been a tad insensitive: "She's got a cold!" (she had viral meningitis), "He's faking" (he had a broken foot). So you'll never make a pediatrician—that's a relief. Nonetheless, you're the yin to my yang, my Rose DeWitt Bukater to my Jack Dawson (you'd definitely be the one to claim the raft), or as Helen Hunt says in the part of Cast Away that makes me sob every single time:
"You're the love of my life!"
(Just imagine I said it in the cute Texan accent I rip off so badly.)
Until Death Do Us Part
We've agreed to the pact. You are allowed one week in Vegas with the agreed friend to "get over me." I am allowed the same to a destination of my choice if you die first. We'll not muck about; we'll be brave for the kids. After this, it is accepted that you would start interviewing for my replacement, and I would change the decor and find a way to convince Chris Martin from Coldplay to move in.
And yes, I realize that if I don't stop leaving teabags by the sink after I've made a brew, this might happen sooner than I thought.
Happy anniversary, my husband.
And without any hint of surprise, my mom was right. As usual.
If you enjoyed this article, head over to like our Facebook Page, It's Personal, an all-inclusive space to discuss marriage, divorce, sex, dating, and friendship.
This article was originally published on