The Old Us: Reconnecting With My Husband
by Christine Burke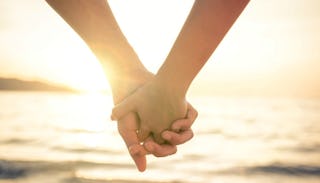 iStock/oneinchpunch
On a beautiful September morning 17 years ago, I stood at the back of a cathedral, resplendent in an ivory gown, and stared nervously down the aisle. As my dad offered me his arm and the music began to play the familiar wedding hymn, I glided down the white aisle runner, praying I wouldn't trip in front of our guests. The scent of fresh roses and sunflowers heavy in the air, I slowly made my way to the front of the church and my eyes met his. For the first time that day, I felt calm and I knew that we would conquer the world together. As he lifted my veil, his eyes brimming with tears, he said simply, "You're beautiful." We stood surrounded by the smiles of our loved ones as we promised to love, honor, and cherish each other in marriage.
That memory is just one of thousands from when we were "The Old Us," or more specifically, the us who didn't have a mortgage, college funds, and two kids at the center of it all. It was before we were the two people who barely resemble those two kids at the altar — me with stretch marks and C-section scars and him with a lot less hair. It was before life got so busy that we are hardly able to remember what it's like to sit at dinner and not discuss soccer schedules, teacher conferences, and the air conditioning unit on its last legs.
The Old Us was spontaneous, romantic and passionate.
The New Us is routine, affectionate, and too damned tired most nights for anything other than House Hunters on HGTV.
The unraveling of The Old Us happened slowly and quietly. In the beginning, it was new jobs in a new town that made our lives full and busy. Our first home was a mess of home improvements and we spent weekends toiling on landscaping and renovations to make our home just so. In those first few years, we were busy but together.
And then came the babies. And the noise. And the sleepless nights. Life was a chaotic jumble of "Can you change his diaper?" and "Shit, we're out of diapers and it's your turn to run to the store." Our children got the best of what little energy we had to offer and at the end of seemingly endless days, we'd collapse on the couch and wonder what The Old Us would have to say about our new normal.
We were exhausted but together.
Through the years, The Old Us has quietly shone through on anniversaries and major holidays. Glimpses of romance, stolen late night moments between bad dreams and umpteen water requests, and simple gestures of kindness reminded us of the promises we made so many years ago. Often, we felt like two ships passing by each other, wistfully wishing that we could drop anchors and float side by side for a few moments in companionable silence. As our kids have gotten older, it's gotten infinitely easier to reconnect but it's still a struggle to dig out our old romantic ways. And as the years with children in our home are rapidly dwindling, we are realizing that we will soon have the opportunity to dust off The Old Us.
But can we go back to The Old Us when the kids go off to college? When the last box is unloaded at the dorm and we get in the car to drive home to our empty nest, will we look at each other and have little to say?
Recently, my husband and I realized that if we want longevity in our marriage, if we want to rekindle The Old Us, we need to start now while our kids are still here. We've been working on shifting our focus back to each other and reawakening The Old Us. And this is what it looks like:
– Leaving your teens at home to steal away for a cocktail hour on a random Tuesday. Frankly, they won't even realize you've left.
– Meeting for lunch while the kids are in school and making a "no kid talk" rule. It's hard. But worth it.
– Discovering new interests to share that spark intelligent conversation. (Thank you, Hamilton: An American Musical.)
– Realizing that dinner can sit for a few minutes on the stove in favor of sipping wine together on the patio as you talk about your work days.
– Saying yes to intimate encounters and finding exciting ways for your old bodies to do new tricks.
– Having real conversations about your retirement and formulating an action plan to get that house by the beach. Figuring out how to make "someday" a reality together.
– Reaching out to grab your partner's hand and feeling the deep familiar connection that has kept you together through breastfeeding, colic, and mouthy teenagers.
– Accepting that you are both equal parts scared and excited about revisiting The Old Us.
– Realizing that you've, in fact, both grown old and you are still together, battle scars and all.
On the day we said "I do," our love was shiny, new, and unmarred by the passage of time and saggy boobs. While I still yearn for the couple who was The Old Us, I also pity them because they didn't know that the best was yet to come. They didn't know the intimacy that comes from worrying about your children together, holding each other in the dark when life hands you bills you can't pay, or making up after a vociferous argument. The Old Us couldn't possibly have known back then that there is nothing sweeter than when your husband beholds you, resplendent in a messy bun and yoga pants over the din of the nightly news, yammering kids, and a barking dog, and simply says "You're beautiful" and means it.
We are old, we are together, and I kind of can't wait to reunite with The Old Us. It's been too long.
If you enjoyed this article, head over to like our Facebook Page, It's Personal, an all-inclusive space to discuss marriage, divorce, sex, dating, and friendship.
This article was originally published on