Couple Celebrates Their 10th Anniversary With An '80s-Themed Photoshoot
by Valerie Williams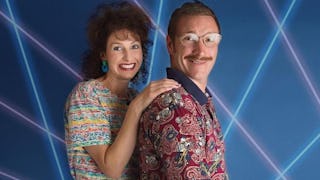 Image via Giggle Monster Photography - Vanessa Hoffmann
Like, totally tubular
Either you're around my age and remember your parents' ridiculous 1980s clothing, or you were lucky enough to don the bodysuits, ruched dresses and giant hair yourself (or you're too young for either of those options in which case we can't be friends, just kidding, but not really).
No matter what, the era's style was undeniably fun and cringe-inducing in equal parts. It's that ostentatious plus awkward vibe that one couple captured perfectly in their '80s-themed 10th anniversary photoshoot, and you're going to want to copy them ASAP, because this looks fun AF.
Steve and Danielle VanHorn of Dover, Ohio just marked their 10th wedding anniversary. The parents of three little boys decided to celebrate the big milestone with a photoshoot to remember.
Seriously, no one will possibly be able to forget these epic photos.
The pair channeled their inner Jane Fonda and Extremely Enthusiastic '80s Dad in a series of incredible images.
Shorts so tight. 'Stache groomed to perfection. Turquoise bodysuit on point. These two have got it going on.
Photographer Vanessa Hoffmann of Giggle Monster Photography tells HuffPost the shoot was an absolute blast with the trio having to stop after every photo because they were laughing too hard to continue.
"When they walked in the door in their first outfit, I lost it," says Hoffman. "We had a hard time keeping a straight face during the session. We shot part of the shoot around my yard and the looks from the neighbors were outstanding. I'm pretty sure they thought we were crazy!"
Crazy? If I saw this happening my neighbor's backyard wild horses wouldn't stop me from begging to participate. Like, please save me an Olivia Newton-John headband and some teeny hand weights, I'm on my way.
The inspiration for their fun pictorial came from their parents, according to Steve. "The idea was based on seeing old photos of our parents and other people from the '80s ― all the goofy poses and funny backgrounds," he says.
"Some were kind of that 'Olan Mills'-style and others we just kind of walked around Vanessa's house and improvised," he shares.
Oh my god, these creepy ghost silhouettes. I can think of at least a dozen childhood friends whose parents had photos like this hanging on the walls. Iconic.
Though time has passed since the VanHorns shared their nostalgia-packed images, Steve says the whole neighborhood is still abuzz. "It's been weeks since we posted the photos and it's still the main topic of conversation anywhere we go," he says. "But neighbors and passersby were definitely confused when they saw us taking the pics."
Confused. Or just blinded by all the awesome.
This article was originally published on