'Married At First Sight' Couple Announces Miscarriage In Heartbreaking Instagram Post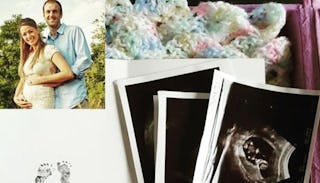 Image via Instagram
Doug Hehner and Jamie Otis of Married at First Sight lost baby shortly after announcing pregnancy
Last week, a reality show couple shared they were pregnant with their first child and sadly, announced yesterday that they lost the baby. They made a heartbreaking update on Instagram to let their fans know the sad news and are finding plenty of support in their time of need.
Married at First Sight couple Doug Hehner and Jamie Otis were due this December with a baby boy, and according to People, the couple were beyond thrilled to start their family. They told the publication their pregnancy news last week with Otis confessing, "Being a mom has been my dream." They excitedly posted a collage of photos to Instagram including ultrasound photos of their son.
A recent Instagram post on Otis' account let their fans know that they lost the baby. The couple were four months along.
Otis writes, "Our Baby Hehner was just too beautiful for earth. I love him so much – ALWAYS will – and can't wait to meet him in heaven one day. Please pray for us."
There are over 3,000 comments from fans sharing heartfelt condolences and stories of their own miscarriages followed by subsequent healthy children. The outpouring of support is wonderful, because if it's one thing couples need in the wake of a loss it's to be surrounded by love and hope.
And of course, they also have each other, as a friend of theirs told People, "Jamie is the strongest woman I know. And Doug has remained her rock through everything. Their love will get them through this."
Although they came together in an unorthodox way having married the day they met on Married at First Sight, the two have since worked on their relationship and felt a baby was the next logical step with Hehner telling People, "In a way, it'll be just like our marriage: Parents at First Sight."
Earlier this morning, Otis updated her Instagram with a collage of ultrasound photos, an image of the happy couple clutching her pregnant belly and the baby's footprints.
The next few weeks and months will no doubt be difficult as they process this loss, but hopefully, the love of their families, friends and fans will help see them through.
This article was originally published on