'Marshall Plan For Moms' Seeks Special Stimulus Plan For Moms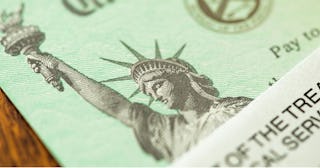 Feverpitched/Getty
50 prominent women ran a full-page ad in The New York Times calling on President Biden to implement The Marshall Plan for Moms in his first 100 days
As the COVID-19 pandemic stretches on, there are a number of problems presented to the average American family including financial troubles, health concerns, how to handle virtual schooling, and more. Arguably, those often holding the bag at home are moms. That's why dozens of prominent women have signed a letter that appeared as a full-page ad in The New York Times asking for moms to be supported financially and otherwise through a Marshall Plan for Moms.
Led by founder and CEO of Girls Who Code, Reshma Saujani, dozens of celebrity women, many of them moms, signed the NYT letter calling on President Biden to pass the Marshall Plan for Moms, which would address the immediate financial needs of moms who have left the workforce amid COVID-19 along with passing policies to address the long-standing issues of parental leave, pay equity, and affordable childcare.
The letter reads:
Dear President Biden:
You know this well: moms are the bedrock of society. And we're tired of working for free.
We need a Marshall Plan for Moms — now.
Like the original Marshall Plan of 1948, this plan would be a financial investment in rebuilding from the ground up.
COVID has decimated so many of our careers. Two million of us have left the workforce, at a rate of four times that of men in September alone. Millions more have been forced to cut back our hours or work around the clock to keep our jobs and be full-time caregivers.
This is not an isolated incident — it is a national crisis. You didn't create this problem, but your administration has an opportunity to fix it. In your first 100 days, we're asking you to:
Establish a task force to create a Marshall Plan for Moms.
Implement a short-term monthly payment to moms depending on needs and resources.
Pass long overdue policies like paid family leave, affordable childcare and pay equity.
Sound crazy? It's not.
It's time to put a dollar figure on our labor. Motherhood isn't a favor and it's not a luxury. It's a job.
The first 100 days are an opportunity to define our values. So let's start by valuing moms.
Signers of the letter include Tarana Burke, Charlize Theron, Amy Schumer, and Eva Longoria.
In an essay for The Hill late last year, Saujani detailed exactly why moms deserve everything the Plan would address. "A Marshall Plan for Moms will stimulate the economy. It will give women the support they need so they can — eventually — get back to work. And it will send a hugely important signal to little girls and young women across the country: that our society values the contributions of women, and that their careers, dreams, and lives will not be taken for granted."
Saujani tells Scary Mommy that the pandemic has meant "shining a light on how much unseen, unpaid labor that moms do." But, she says, "it's a shame it took this long." The pandemic could hold a silver lining in the way it's brought attention to the plight of moms, but Saujani tells us it's only a silver lining "… if we do something about it. We need to come out of this pandemic with a solution for moms."
With President Biden in office, Saujani is feeling some hope for the future. "I sincerely believe that the President is personally invested in this issue." Scary Mommy asked what it means to have working mothers like Dr. Jill Biden and Vice President Kamala Harris in the White House. "It means a lot to have women—mothers—in positions of influence and power, there in person to shed light on the experience of moms," she says.
Scary Mommy asked Saujani why the issues of affordable childcare, meaningful paid parental leave, and pay equity have persisted for so long without being resolved. She says, "This country does not value women. Our entire economy has been built on the undervalued labor of people of color, on the unpaid labor of moms. It's unjust and it needs to end. The labor of moms has been 'free' for so long, that we literally don't even know how valuable it is. If all moms stopped mothering for a week, stopped working for a week – I think this economy would collapse. And if we don't step up to support them soon, it may."
You can add your name to the Marshall Plan for Moms and join the chorus of voices demanding these long overdue changes.