Marshalls Will Open Its First Online Store This Year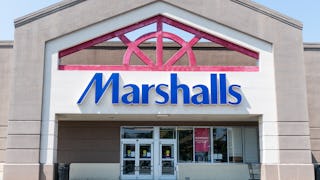 Image via Michael Brochstein/SOPA Images/LightRocket via Getty Images
If you're tired of waiting in that long line, good news — Marshalls will have an online presence later this year
Some people love the thrill of the hunt when it comes to shopping, and what better hunting grounds than "everything but the kitchen sink" retailer Marshalls? You go there and literally have no idea what you might find (or not find) and for some, that's the beauty of it. For those of us who feel a slow panic coming on at the sight of all those delightfully random shelves and racks, maybe their upcoming online store will be more your speed.
Oh, and not having to stand in that uber long line certainly won't hurt either.
Marshalls is set to join the internet shopping world later this year, according to TJX Companies CEO Ernie Herrman, who shared info on the upcoming change with investors in a fourth quarter earnings conference call this week. The most specific he got about timing? Around the "back half of this year."
OK. That sounds like in time for Christmas? Maybe? Hopefully?
The store has long been brick-and-mortar only and in an increasingly pants-free shopping landscape, that's pretty unique and notable. Herrman did note that the products available in-story and online won't be the same, though. "We look at it as complementary," he says. The chain is also taking cues from sister brand TJ Maxx. "We have learned a lot from TJMaxx.com," Herrman said. "We really believe it drives incremental store traffic given large percentage of returns online is in stores. It is going to encourage cross-shopping. That has worked really well for us."
So as mentioned, we know some people dig the in-person Marshalls experience and enjoy spending all kinds of time sifting through the shelves and racks, looking for that perfect item(s). I happen to not be one of them as that sort of vibe ups my anxiety levels and makes my shopping brain shut right down. Being able to search for Marshalls goodies online where I won't need to stress will be a very welcome addition for me.
Though it will make hanging on to our dollars slightly more difficult being able to buy all kinds of fund things with merely a few taps and swipes. After a couple of wines.
Like, at least they understand their role here.
In a statement, Marshalls said, "We are excited to confirm that the surprising Marshalls shopping experience our customers love will be available to shoppers online sometime later this year. We expect Marshalls e-commerce site to offer a mix of merchandise that differs from what our customers will find in our stores. When we are ready to launch the site, we will let you know!"
And we will be ready and waiting, coffee (or wine, I don't judge) and iPad in hand. Ready to shop without pants on, like nature intended.
This article was originally published on