Martha Stewart And Snoop Dogg Will Be Hosting Your New Favorite Cooking Show
by Maria Guido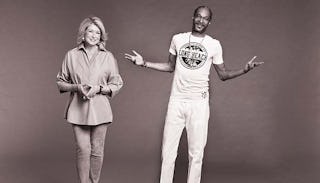 Image via VH1
Martha Stewart and Snoop Dogg are hosting their very own dinner party TV series
Cooking is great, but not as great as watching other people cook — a fact that explains insane popularity of cooking shows. Just when you thought that you couldn't add another cooking show to your DVR list, along comes Martha Stewart and Snoop Dogg, together, hosting a their very own dinner party TV series.
VH1 has confirmed that the unlikely duo will be hosting a show with the working title "Martha & Snoop's Dinner Party" come fall. "The series will feature the lifestyle maven and the D-O-double-G teaming up each week to host a dinner party with celebrity guests. It is set to premiere this fall on the Viacom-owned cable network" Variety reports.
This only seems odd to you if you've never seen the two in a room together. They have serious chemistry — they really do. Snoop twice visited Martha's daytime show and it made for some awesome television.
There was the time they made mashed potatoes:
And he taught her a few choice phrases:
… because hearing Martha say the words "what's crack-a-lackin'" is something you didn't know you were missing in your life.
"We're thrilled to partner with Martha Stewart and Snoop Dogg, two of pop culture's biggest icons," said VH1 and Logo president Chris McCarthy. "Good parties are filled with fun, food and unexpected guests. Wait 'til you see what happens at 'Martha and Snoop's Dinner Party'; it will be unforgettable."
How bad do you want to be at this dinner party?
This article was originally published on