Mary Fran Donnelly Went Viral For Her Critique Of Hotel Towels – But She's So Much More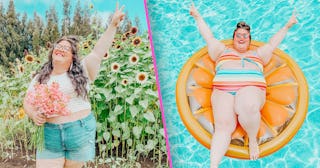 maryfrannn/Instagram
You might not know her by name, but I bet you've seen Mary Fran Donnelly. The late-twenties middle school teacher from Hawaii recently went viral on TikTok for her critique of hotel towels. A video of her laughing with her sister about the absurdly tiny piece of fabric with which she was supposed to dry her self-described fat body has amassed multiple millions of views. If you didn't catch her on TikTok, you might have seen her on Buzzfeed, or even here on Scary Mommy! She's been everywhere lately!
Mary Fran's videos are positive and adorable, and her laugh is contagious.
You can tell by watching that she is not only sweet and encouraging, but also whip smart. Nevertheless, when I got the chance to talk to her, I was expecting a light-hearted conversation about traveling while fat. I thought we would kvetch about the annoyances, laugh a little, and I'd churn out a cute, short piece, including some other fat people's experiences with airlines and hotels. Easy peasy.
I called Mary Fran on a Friday morning expecting to spend ten to fifteen minutes chatting about her TikTok fame and traveling while fat.
But my half hour on the phone with Mary Fran was decidedly not a fluffy, shallow conversation about airline seats or hotel towels. Mary Fran speaks about herself and other fat bodies so gently and intelligently that for a moment, I forget I'm doing my job. She makes me feel like a friend, like I could grab a glass of water and curl up on opposite ends of a comfy couch and talk about our shared experiences as fat women for hours. By the time we hung up, I knew I would be taking a whole different approach. Writing a light-hearted fluff piece about Mary Fran doesn't begin to do justice to the work she is committed to doing, and the person she has chosen to be.
https://www.instagram.com/p/CRM1MLbsy_T/
Mary Fran Donnelly didn't really plan on being a content creator.
"I created a TikTok account very much as an avenue just to watch videos. I wasn't planning on creating any content, but at the start of March of this year, my therapist and I were kind of talking about my body dysmorphia and the things that I experience when I look in the mirror and the things that I say to myself.
When you're a larger-bodied person the harsher criticisms you say to yourself also come from other people, so it feels like there's a validity to them. I've been working toward a better narrative when speaking to myself. My therapist said, 'Ya know, you don't have very much of an audience, so why don't you just start filming yourself dancing every single day?'
I love to dance. I'm not a professional dancer, but I love to get down with my bad self to, ya know, Abba," she laughs playfully.
"I started there, filming myself in my outfits before I went to school to kind of start my day off on the right foot and think positively about myself. Then my therapist took it one step further, and said, 'Why don't you film yourself saying things to yourself that you want yourself to believe?'
That's where my 'Hey Chickadee' talks came from," Mary Fran explains. "That video got one and a half million views and my account went from having 200 followers to 50k in like 3 days. I started to lean into the parts of me that are an advocate for body positivity and plus-size representation in the world.
"That's kind of where my videos started to pick up. I was addressing these ridiculous societal standards that are placed upon larger-bodied people. And the things I'm unpacking now are things that as a child I experienced, and how ridiculous it was, the expectations," she shares.
https://www.instagram.com/p/CRHhwZWMgMu/
Mary Fran never expected the travel videos she posted to go viral the way they did.
Despite some media outlets calling them a "series," it was really just two quick, funny videos Mary Fran shot with her sister during their vacation. Her TikTok channel isn't dedicated to traveling while fat. As a matter of fact, Mary Fran doesn't even do very much traveling.
"I am a nervous traveler in general, and I think that's heightened because I'm a fat, larger-bodied person," Mary Fran admits. "Prior to the pandemic, the last place I went to was Disneyland. I probably spent 5 to 6 hours researching ride sizes, hotels — just looking at all the things that as a larger-bodied person, I would experience when I got there. I'm not a spontaneous person. I can't just let it roll off my shoulders.
"I travel with my family. I don't travel alone because I'm so terrified of what strangers will do. It's a very real fear, especially with airline seats the size of a sardine can. I know in order to be comfortable [on a lot of airlines] I'd have to pay for first class."
Mary Fran made sure she could sit next to her sister, and even purchased her own seatbelt extender in order to avoid the discomfort of asking for one.
"Ultimately, I didn't need it because I believe Hawaiian Airlines' seat belt sizes are very inclusive for larger bodies."
https://www.instagram.com/p/CPjgHpFMUBv/
When Mary Fran's family arrived at the boutique hotel where they'd be staying, she soon realized that the bathroom layout was absurd.
There were mere inches on either side of the toilet. (Several contractors reached out to Mary Fran to let her know that in many places, the lack of space would not be within building code.)
"Like a lot of people who are fat or larger-bodied, I have learned to walk into a room and cope with humor. I can make fun of myself and the situation I'm in because if I can make myself laugh, it takes away that pain. It takes away that embarrassment, that frustration I feel when I travel," Mary Fran explains.
"My sister is my safe space. I think that's evident in the video. [When we saw the bathroom layout], we filmed the video on a whim, and then TikTok took it down! They said I was bullying people! I reuploaded it (because you can't stop me!) and that was the one that ended up popping off," she laughs.
https://www.instagram.com/p/CO6tqMIs89D/
As funny as they were, Mary Fran's videos aren't intended to be only comedy.
"I filmed as a coping mechanism. I was staying in this hotel for four days. It was comforting to have my sister in that moment, allowing me to be the comedic person I can sometimes be while addressing things that are really sad, honestly. There are people that don't have the comfort level to be able to express that, ya know?" Mary Fran laments.
She goes on to share that the restaurant didn't have chairs to accommodate her comfortably, so they chose to order dinner in their room — only to realize that the patio furniture was also made for someone in a much smaller body. All in all, Mary Fran found the entire travel experience to be riddled with small issues that could easily be remedied if people in fat bodies were a priority to travel-related companies.
"It makes me really sad to read comments from people saying, 'I just bring my own towel,' or 'I just bring my own robe,' or whatever. That is the biggest crux of the problem. As fat and larger bodied people, we are expected to just accept that we do not fit the standard in this world. We are expected to just lean into the idea that we are the problem. We're just lazy. We're not working hard enough. We're just making excuses. We're eating too much," Mary Fran sighs.
"It's not as if they didn't realize that fat people liked to travel until after they built their hotels. It's just that now people are trying to hold them accountable. And it's not that these hotels don't have money or the capability of accommodating large bodies," she declares.
Mary Fran points out that small people could use things like towels and chairs intended for large bodies, but large people can't always use things intended for small bodies.
Making accommodations for large bodies should be the standard. Even asking at the time of booking if someone needs extra room, larger towels or bigger robes could eliminate so many issues.
"There's a really sad element to this. You should be able to travel and feel safe emotionally. But that's not the case in a lot of travel spaces for larger people," she says, her resolute tone increasing with every word.
https://www.instagram.com/p/CK2ML5XBZzv/
Mary Fran's sister asked why she is choosing to criticize things like flimsy furniture, bathroom layouts and towel size now when the world has been like this for her entire life.
"I'm finally comfortable recognizing that it is ridiculous that I have to just be okay with this. I'm not. When I'm paying for a hotel room, I should be able to park my butt on a toilet comfortably," Mary Fran declares.
And she's right. Fat people have always existed, we are always going to exist, and our money spends the same. Travel-related companies would be smart to work toward accommodating us—even though they chose not to when creating their spaces and making their policies.
Mary Fran Donnelly refuses to sit back in silent acceptance of a size-exclusive world. Whether she is using humor, dancing, motivational videos or choosing to spend her hard-earned dollars in inclusive spaces, she is working toward a world that allows people large bodies to thrive more confidently. The world needs more people like Mary Fran. She's a living beam of light.
https://www.instagram.com/p/CQozWExMrfm/
This article was originally published on