This Woman's 'Work It' Karaoke Was So Good Even Missy Approved It
by Valerie Williams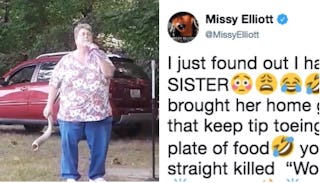 Image via Twitter/Missy Elliott
Woman's amazing rendition of "Work It" has even Missy Elliott herself completely shook
If you wanted to die laughing and also have your heart completely warmed today, have I got the best news. A woman has done a cover of Missy Elliott's hit song "Work It" — and it's absolutely everything. Even more amazing? Elliott saw the video and her response is internet gold.
According to Forward, Mary Halsey is an assistant at a nursing and rehab facility as well as a beloved figure in the community. During a picnic at Rhode Island's Goddard Memorial State Park last month, Halsey grabbed the mic and busted out a performance for the ages.
I NEED A GLASS OF WATER.
Can you believe? I'm honestly leveled by how completely perfect this video is. Halsey holding the shofar, which she's apparently quite accomplished at playing, and at one point pretending it's, um, something else. The woman casually bopping along in the background with her plate of food. Halsey herself peppering the entire song with all the right sound effects, never missing a beat. Her rap skills, which frankly have me shooketh.
It quickly went viral on Facebook and eventually made its way to Missy Misdemeanor herself — and she was totally here for it.
Elliott tweeted her appreciation of Halsey's tribute saying, "I just found out I have a FUNKY WHITE SISTER😳😩😂🤣 forreal doe😂🤣& she brought her home girl with her from da hood that keep tip toeing in the background with a plate of food🤣 yo I'm done!😂 but she straight killed "Work It" sound effects & all🙌🏾 I love it🔥🙌🏾."
Elliott's eye for detail meant she caught every amazing moment, right down to the friend holding a "cup of oodles and noodles."
Elliott wasn't the only one slayed by Halsey's flawless performance. Twitter was full of praise.
https://twitter.com/jetpack/status/1027124660595437568https://twitter.com/jetpack/status/1027061766415687680
Her viral performance isn't "Missy Mary's" first time bringing down the house. She does this tune at karaoke nights on the regular, which makes this not, in fact, a Mary Halsey one-time exclusive.
https://twitter.com/jetpack/status/1027081348807372800
Everyone's just loving it, and I can't blame them.
https://twitter.com/jetpack/status/1027244463503159296
Honestly, she has me like:
Mary, I think I speak for Elliott and the rest of the internet when I say, can "Get Ur Freak On" be next? Please?
This article was originally published on