The Trailer For 'Mary Queen Of Scots' Just Dropped And It's Giving Us Chills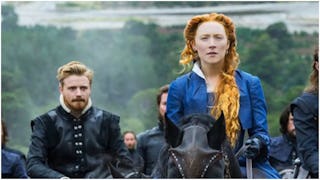 Image via Focus Features
The Mary Queen of Scots trailer is a suspenseful, thrilling rollercoaster ride
The first trailer for Mary Queen of Scots just dropped, and it will make you feel all the historical feels. There's betrayal. There's revenge. There's royalty. And best all, there are two strong female leads who look like they're carrying the hell out of this film.
The drama follows Mary Queen of Scots (Saoirse Ronan) and Queen Elizabeth I (Margot Robbie), two cousins who battle it out for the English throne. The trailer features all the prerequisites for a historical royal film: battle scenes, the threat of a beheading, some sexy boudoir action, and the birth of a baby to confuse things even further. Only, it's all so, so much more interesting when you've got two headstrong, complicated women at the helm.
Also, after Lady Bird, I will literally follow Saoirse Ronan wherever she's going.
The actress told Collider that she actually discovered it was fairly easy to identify with Mary.
"I found that with Mary and Elizabeth, and with any woman in power, they remind me of actors. There's so much hand-shaking that you need to do," she said. "There's a public persona that Mary had to put on with people, and she had to have so much strength from such an early age, and that's something I could totally identify with, being someone who's grown up doing this earlier than you would usually. She was thrown into that world very young, too."
Robbie also noted that Elizabeth and Mary's rivalry was completely twisted and manufactured by outsiders.
"Everyone manipulated their relationship," she told Entertainment Weekly. "It's complicated, it's tragic, and it's bizarre. The only other person in the world who could understand the position they were in was each other."
Josie Rourke, the film's director, added: "They were both, in their own ways, making huge sacrifices to try to operate in this male-dominated world. It's not one against the other. It's both of them against a particular environment that pitted them against each other."
Side note: let's give ALL the awards to the make up artist who transformed Robbie so well.
Mary Queen of Scots hits theaters on December 7, 2018, which gives you plenty of time to read everything you can about this complicated rift. Also, might as well rewatch Lady Bird a few more times while you're at it.