Teen Girl Shot By Ex In Maryland High School Shooting Taken Off Life Support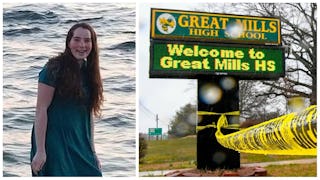 Image via YouCaring/Jonathan Newton/The Washington Post via Getty Images
In the wake of Jaelynn Willey's death, it's time to talk about domestic violence and guns
Jaelyn Willey, a 16-year-old student at Great Mills High School in Maryland, has died after being taken off life support. Willey was shot by her ex-boyfriend earlier this week, making her not just a shooting victim, but also a victim of domestic violence.
Willey was one of two students shot at Great Mills on Tuesday morning. The other victim, a 14-year-old boy, was sustained a leg injury and was discharged from the hospital the following day. Heartbreakingly, Willey was not as fortunate.
"My daughter was hurt by a boy who shot her in the head…and took everything from our lives," Melissa Willey, her mom, said at a news conference yesterday. "She will not make it."
Jaelyn Willey died just before midnight, hours after her mother said she was declared brain dead. A mother now has to live the rest of her life without her daughter — because our country has a gun problem and a domestic violence problem.
Several headlines surrounding the Maryland shooting declared the shooter to be a "lovesick teen," and we need to get one thing completely straight: there's absolutely nothing resembling "love" when it comes to shooting your ex-girlfriend in the head. Passing this off as an act committed by a young kid who had his heart broken promotes an irresponsible, dangerous narrative.
According to the National Domestic Violence Hotline, about 1 in 5 women and nearly 1 in 7 men who ever experienced rape, physical violence, and/or stalking by an intimate partner, first experienced some form of partner violence between 11 and 17 years of age. In a nationwide survey, 9.4% of high school students report being hit, slapped, or physically hurt on purpose by their boyfriend or girlfriend within the past year.
Domestic violence and gun violence are undeniably intertwined; the statistics are startling. The presence of a gun in a domestic violence situation makes it five times more likely that the woman will be killed. Five. Times. And thanks to lax gun laws in the United States, women in the U.S. are 16 times more likely to be shot and killed than women in other developed countries.
While we can't rely on lawmakers who stand to financially benefit from the NRA and are therefore unlikely to cave to the desire of gun control advocates, we can do something about what we teach our teenagers. We need to stop perpetuating the notion that the culpability for a tragedy like Jaelynn Willey's lies on the shoulders of girls. We need to stop feeding into the bullshit notion that if a girl doesn't like a boy, or doesn't wish to remain in a relationship with a boy, then she is somehow to blame because he's a "nice guy." Girls and women aren't property, they aren't prizes to win, and most of all — they don't owe boys anything.
Do you know how many times I've read a pathetically self-absorbed Facebook rant from a guy where he bemoans the fact that he's had his heart broken by women because they just don't like "nice guys?" On more than one occasion I've read these whiny, tone-deaf rants and I've thought, "I bet he's a terrifying prick to be in a relationship with."
"Nice" guys don't get verbally abusive because a girl won't go out with them. "Nice" guys don't become physically violent — EVER. And guys who enter a high school, gun in hand, with the sole intention of shooting an old girlfriend? They're not "nice." And they're definitely not fucking "lovesick."
Melissa Willey's world is forever marred by the senseless loss of her young daughter. She was the second oldest of nine children, and now her brothers and sisters have to grow up without her. If you wish to help the Willey family in their time of need, a relative set up a YouCaring fundraiser page for donations.
Jaelynn Willey deserved better, and now it's too late to help her. But it's not too late to help the thousands of other girls and women who will die at the hands of their abuser this year. It starts with not excusing the violent acts carried out by violent boys as "love." It's murder.