3 People Killed During Mass Shooting At Jacksonville Video Game Tournament
by Jerriann Sullivan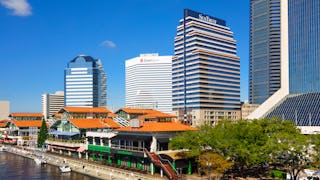 Image via Istock/Getty Images
11 people shot at video game tournament in Florida
Multiple people were killed during a mass shooting at a video game tournament in Jacksonville, Florida on Sunday. The victims were at a qualifying event for the Madden 19 Tournament at a shopping and dining plaza in downtown Jacksonville.
According to the Jacksonville Sheriff's Office, at least three people were killed and another seven were injured in the mass shooting. Those are preliminary numbers that could change as the situation continues to be investigated. Sheriff Mike Williams believes the only suspect – described as a white man – is dead at the scene of the mass shooting. Police have asked that people stay away from the Jacksonville Landing complex, where the mass shooting occurred. "We can't stress enough to stay away. Many blocks away," the sheriff's office said.
Ryan Alemon traveled to Florida from Texas for the video game tournament. He told CNN that he ducked down and ran toward the bathrooms after he heard the gunshots. He said he waited there for 10 minutes or so before he ran from the scene. "I'm still shocked, I can hardly talk," he explained. The sheriff's office tried to reach people via Twitter and said: "We are finding many people hiding in locked areas at The Landing. We ask you to stay calm, stay where you are hiding. SWAT is doing a methodical search inside The Landing. We will get to you. Please don't come running out."
In a live stream of the Madden tournament, the mass shooting could be heard. The video was posted to the website Twitch and does not show the shooting, but loud gunshots and people screaming can be heard as the game is suddenly stopped. One person is heard yelling, "Oh f**, what'd he shoot me with." Preliminary reports indicate that the mass shooting happened inside a pizza restaurant that has a special section for video games. The event, the Madden 19 Southeastern Qualifier Tournament, came with a $5,000 prize.
Electronic Arts aka EA Sports creates the popular NFL football video game Madden. The released a statement on Twitter following the shooting that said in part: "We are aware of an incident at a sanctioned Madden Championship Series competition in Jacksonville. We are working with authorities to gather facts at this stage." The company added, "This is a horrible situation, and our deepest sympathies go out to all involved."
Stephen Javaruski told MSNBC that his son had just made it into the final four players of the tournament when the shooting happened. His son texted him to tell him about the shooting and let him know he had fled to a bathroom stall. "It's happened before to other people," Javaruski explained. "You feel really bad and [are] glad it doesn't happen to you, but it seems like the law of averages today: sooner or later you're gonna be affected."
This article was originally published on