12 Dead In Mass Shooting After Shooter Opens Fire In Virginia Beach Building
by Cassandra Stone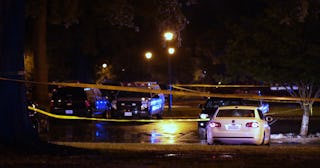 Chip Somodevilla/Getty Images
Reports say a 'disgruntled employee' opened fire during work hours, killing 12 and injuring 4
Reports of a mass shooting in a Virginia Beach are saying a longtime city employee shot and killed 12 people and injured at least four others after opening fire in the Princess Anne public works building. So far, this is the deadliest mass shooting in 2019.
Virginia Beach police officers killed the shooter during an exchange of gunfire after they entered the building. Those who were injured were rushed to the hospital and all four of them were in surgery as of Friday night.
Police Chief James Cervera and Mayor Bobby Dyer gave a press conference just hours after the massacre. "This is the most devastating day in the history of Virginia Beach," Dyer said. "The people involved are our friends, co-workers, neighbors and colleagues."
Police say the shooter was armed with a .45 caliber handgun that had a suppressor on it. Multiple extended magazines were also recovered from the scene of the shooting. He is thought to have purchased the firearms legally, according to CNN.
It's the worst mass killing in Virginia Beach's history. Prior to yesterday's shooting, the last shooting involved four victims back in 1994. In terms of the U.S. overall, it's the worst mass shooting since the November 2018 shooting at the Borderline Bar & Grill California, where 12 people were also killed. Prior to that, the deadliest shooting in the U.S. was at the Tree of Life Synagogue in Pittsburgh in October 2018.
Megan Banton, a public utilities employee working in the building at the time of the shooting, told WAVY-TV she and her coworkers barricaded themselves in their office as she called 911. "We just heard people yelling and screaming to get down," Banton said. "I don't know what kind of person would do something like that."
The shooting began shortly after 4 p.m. Friday as employees in the public works building were getting ready to leave for the weekend. Many employees work out of small office spaces along long hallways, The Washington Post reports. One victim was shot in a vehicle outside the building, the rest were shot inside. Chief Cervera says he found victims on every floor of the three-story building.
Cervera said because the shooter was a current employee of the city, he had access to the building and wouldn't have had to get checked prior to entering the building. It's also legal to enter municipal buildings with a firearm in Virginia Beach — but not schools or courts. "Right now we have a lot of questions. The whys, they will come later," he said. "Right now we have more questions really than we have answers."
Another employee who was in the building, Zand Bakhtiari, tells the Pilot he heard lots of gunfire coming from the floor either above or below him. "It was repeated, rapid gunfire," he said.
Governor Ralph Northam addressed the shooting in a news conference Friday as well. "This is a horrific day for the Commonwealth of Virginia," he said. "Our hearts ache over the senseless violence that has been inflicted upon the Virginia Beach community today."