These Matching Flapjack Onesies Will Give You All The Cozy Feels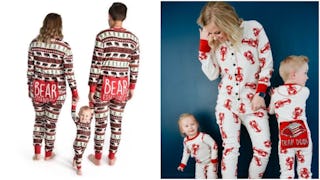 Image via LazyOne
Prepare to squeal: these matching family onesies come complete with flapjacks
Winter is just around the corner which means all the comfy socks, thick sweaters, and baggy sweatpants. It also means that you can insist on the whole family wearing matching LazyOne flapjack onesies because it's cold damnit, and everyone should be cozy together. Prepare to look extremely adorable (and your tush won't look so shabby either).
Okay, so these matching PJ onesies are cute in and of themselves. But the fact that they say "special delivery" on the bum? Priceless. I'd like to see ANY family member try to argue their way out of wearing these.
There's nothing quite as cozy as onesies decorated with Christmas trees. Add in a reindeer and the words "no peeking" on the bum and you've got yourself the ultimate holiday loungewear.
Is it a wee bit out there for the whole family to wear the words "sweet cheeks" on their behinds? Maybe. Will it be the most fun purchase you'll ever make? Absolutely.
While we're on the subject of butt puns – you can also buy these extremely adorable red onesies with flapjacks that feature a bear and the words "bear bum." Truly A+ wordplay.
More bears. More bear puns. So much coziness. What more can you ask for?
I stand corrected. THIS lobster wordplay has officially won it all.
Seriously – when the whole family is dressed up in these matching pajamas, nobody better moose with them.
Okay, are you completely loving the idea of these onesies with flapjacks but think it might be hard to get the whole fam on-board? Allow me to introduce you to a much tamer alternative. Still has flapjacks, just no butt puns. Win-win.
It might take some convincing, but your family is about to get so, so much cozier this winter. And your tushes won't be complaining either.
We are a participant in the Amazon Services LLC Associates Program and may earn fees by linking to Amazon.com and affiliated sites.
This article was originally published on