Now's The Perfect Time To Buy Matching Robes For You And Your Pup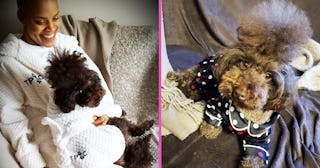 ThePoshPawsCompany/Etsy
As long as we're always in pajamas and robes anyway, might as well match our pups
As we all settle into our quarantine wardrobes of leisurewear (LOL, F real pants), it's only natural that we think a little outside the box. After all, no matter how comfy sweats, leggings, and PJ pants are, it might get a little boring after a few weeks. That's why we're thrilled to report that you can buy yourself a new robe — and get a matching one for your dog.
The Posh Paws Company is based in the United Kingdom and makes all kinds of fun outfits for your pup. Happily, they'll deliver to the United States for a small fee (my South Carolina zip code came up $4 — worth every penny) so that means we can make ourselves and our dog look like we've been spending time at the spa. I mean, stop it — this is criminally cute.
The pupper robes range in price from around $36-58 depending on what size your doggo needs. The human version starts at $58.
I mean, come on. Look at that wee little dapper robe.
And if hotel spa white isn't your thing, they come in other colors. They can also be personalized and the better question here is why WOULDN'T you personalize them? Otherwise, how else will Mr. Fluffy Pants know it's his robe?
Not really feeling the robe thing at all? I don't understand you, but I got you. Try some silky patterned PJs for you and your pooch. Human pants range from $37-60 and come in both men's and women's sizes. Doggie PJs will run you $38-67.
FYI, The Posh Paws Company also has an amazing selection of doggie formalwear for when this quarantine finally ends. There's dog bridesmaids dresses and tuxes because how else would your pooch attend a wedding or just a stylish walk through the dog park? I mean, do we really even need an occasion to dress the dog in a tux? I'm gonna go with no during these uncertain and fraught times. We need all the happy we can get and what's happier than a pup in a waistcoat? Nothing, that's what.
In these trying times, we get our giggles where we can and while we can't wander stores, we can still shop online while wearing a robe that happens to match our doggie's robe. It's hard to think of a better way to spend all this time at home.
This article was originally published on