Kentucky Governor Says America's 'Getting Soft' For Closing Schools During Polar Vortex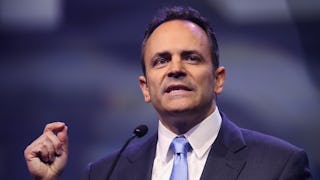 Image via Scott Olson/Getty Images
Kentucky Governor Matt Bevin apparently thinks kids should go "hard" and freeze instead of staying home from school during a literal polar vortex
Kentucky's Republican Governor Matt Bevin had some choice words in response to the news that some Louisville schools were planning to close in anticipation of a blast of arctic air from the polar vortex. The resulting (sometimes life-threatening) temps are hitting the state as well as other midwestern areas, but apparently, Bevin thinks kids should toughen up and freeze their butts off like in the good old days.
Eye roll.
Bevin shared his hot take during a radio segment with Louisville's 840 WHAS. Keep in mind, the area is expecting temps as low as -15, with appropriate weather advisories in place telling citizens the wind chill will be "dangerously cold."
"I mean, what happens to America?" he pondered. "We're getting soft." Please note that this is the very same governor known for posting a number of selfies and then blocking constituents for saying things he doesn't like. Sounds like he's super hardcore, everyone.
And just to make sure his message was getting through, he repeated once more: "We're getting soft."
Just so we're clear — he's referring to school children who would have to either walk to school or wait for the bus in sub-zero temps and ride buses that might not be safe because of the cold.
When Terry Meiners, the show's host, mentioned that Bevin's own kids would be keeping him up late in anticipation of their day off, Bevin doubled down on his whining about how little kids who don't want to get frostbite should just grin and bear it.
"Now we cancel school for cold," he scoffed.
"It's deep freeze!" Meiners reminded him. "This is serious business."
Bevin is apparently unconcerned unless the scary-low temps come with some white stuff. "Come on, now," he said. "I mean, there's no ice going with it, or any snow."
Actually Mister Governor, the National Weather Service was predicting snow for today, and the area did see a few inches. Keep in mind, the state's average January temps are in the 40s. That means a number of children might not have all the right winter gear to stand out at the bus stop in sub-zero temps with snow swirling around.
Bevin did admit that when it comes to kids, it's best to cancel school rather than risk sending little ones out into the cold. "I do appreciate it's better to err on the side of being safe," he says.
Then, he promptly circled back to being a cruel jerk again.
"But it does concern me a little bit that in America — on this and any number of other fronts — we're sending messages to our young people that if life is hard, you can curl up in the fetal position somewhere in a warm place and just wait until it stops being hard," he said.
"And that isn't reality," he adds. "It just isn't."
So. Let's get this straight. He really does consider allowing CHILDREN to avoid frostbite as giving them an easy way out? I hope his kids spent today not at all in the fetal position, but jumping all over the couch and driving him nuts on their day off from school. Kick rocks, Governor.
Jessica Dueñas, Kentucky's 2019 "Teacher of the Year," feels the same way we do and directed a glorious clap back at the state leader's thoughtless and ignorant remarks.
"Please go outside tomorrow," she said in a video posted to Twitter, "and stand outside for 30 minutes as if you were waiting for the bus, dressed as one of our students would be, because I guarantee you most of our students are not wearing some fancy Patagonia or North Face jackets."
As for the Kentucky Education Association, they're also in full support of the choice to close schools.
The state's Democratic candidate for governor was similarly unimpressed with Bevin's comments calling them "dumb and mean."
Even fellow Republicans, like his GOP primary challenger Robert Goforth, think he's ridiculous. Goforth poked fun at Bevins' elite prep school background while sticking up for the children of Kentucky.
In short, these decisions are made with child safety in mind and every time some old moron starts waxing poetic about the good 'ol days when we sent kids to school through any kind of weather in a t-shirt and shorts (uphill, obviously) we need to remember that when we know better, we do better. We know children shouldn't be standing out at a bus stop for any length of time when frostbite is a possible outcome, so schools are totally correct in closing.
Nothing "soft" about it.