Matt Damon's SNL Skit About Christmas For Parents Is So Real We Feel Attacked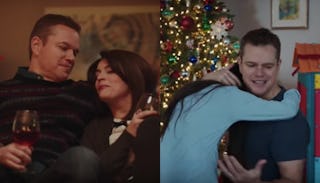 Image via YouTube/SNL
Matt Damon and Cecily Strong capture exactly how the holidays go for parents in a brilliant skit
Matt Damon starred in an SNL skit this weekend that hit a little too close to our holiday home. All the work and chaos that goes into making Christmas perfect for our kids, in-laws, and whoever the hell else can feel pretty thankless — but why do we still feel so blissful and satisfied at the end? It's a holiday mystery that Damon and Cecily Strong hilariously explore in a skit sure to become a seasonal classic right up there with Schweddy Balls.
The pair star as exhausted parents finally settling in for that post-hosting-the-holidays glass of wine. You know the one — the stress is finally over, the kids are tucked in, and you can finally stop with all the lists and prep and insanity. That's when parents look back on the day and declare it a rousing success, as the rosy glow of the Christmas tree seems to make the actual memories of the day fade. While Damon and Strong reminisce about the "best Christmas ever," it cuts to scenes from the day — and they feel like your actual life.
"I had a smile on my face from the moment I woke up," says Damon. At 5:41 am, kids screaming and pouncing on his head, obviously.
"I think I was more excited than the kids," he says, and Strong agrees. But reality is familiar to any parent with the kids greedily tearing open gifts as the parents struggle to keep their eyes open, let alone soak up the joy of the moment they spent weeks preparing for.
They look back on how happy the kids were with their gifts. Strong giggles and says she hopes her husband wasn't up too late putting together their daughter's playhouse and LOL nah, it went great. Just a little Christmas Eve rage and swearing at all those f**king parts, which brings back memories of my husband and I up until 4am putting together our son's train table one year — only to have him toddle right past it hours later shouting demands for his usual order of waffles. So magical.
The complaining in-laws, the coughing cousin, the MAGA uncle, the fighting siblings, and the secret cigarette Strong managed to stress-smoke as they hosted family completes the day's memories.
And after all that, they recall the moment Damon opened his "special" gift from their kids — a pair of monster feet slippers only a dad could love.
As the kids begin to fight and wail upstairs, the skit ends with a quote that sums up our holidays perfectly. "Even when it's the worst, it's the best."
Sigh. Yup. No lies detected.
This article was originally published on