The Allegations Against Matt Lauer Are Chilling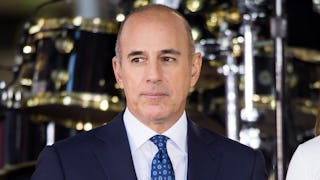 Image via Noam Galai/WireImage
Several current and former employees have come forward with shocking stories of his alleged behavior
Yesterday, America was stunned by the news that NBC had fired TODAY show anchor Matt Lauer over allegations of "inappropriate sexual behavior." At the time of Savannah Guthrie's emotional announcement on Wednesday's show, the details of the incidents that led to his dismissal were unknown. Now, they're coming out — and they're beyond disturbing.
harassment
Variety published some of the nauseating specifics of accusations from female employees that claim they've been sexually harassed or assaulted by Lauer, with the New York Times confirming that two more women came forward yesterday, with one accusing Lauer of rape.
Variety reports that several women had complained about his alleged behavior to network execs over the years, but that no action was ever taken. Behavior such as Lauer once allegedly giving a colleague a sex toy as a gift along with an "explicit" note on what she should do with it. She describes herself as "mortified" by the incident.
He also allegedly "summoned a different female employee to his office, and then dropped his pants, showing her his penis," and when she was shaken up and didn't want anything to do with him, he reprimanded her.
The immediate cause of his firing involved alleged inappropriate sexual conduct with a female employee that began at the Sochi Olympics in 2014 and continued on for months afterward.
He would allegedly talk to female employees about who they slept with and enjoyed playing the game "Fuck, Marry, Kill" with both men and women, where Lauer would allegedly take the opportunity to say which female co-hosts he wanted to sleep with.
In short, when NBC News Chairman Andy Lack stated in yesterday's announcement of Lauer's firing, "We were also presented with reason to believe that this may not have been an isolated incident," he wasn't kidding.
The accounts of Lauer's behavior as told to Variety paint a picture of a serial predator. He allegedly made frequent lewd comments, both verbally and via text, about women's bodies and general appearance. A former producer with first-hand knowledge of Lauer's alleged behavior explains, "There were a lot of consensual relationships, but that's still a problem because of the power he held. He couldn't sleep around town with celebrities or on the road with random people, because he's Matt Lauer and he's married. So he'd have to do it within his stable, where he exerted power, and he knew people wouldn't ever complain."
And within his stable means safely tucked into his office, which he allegedly had outfitted with a lock that worked from the inside by the push of a button under his desk. This gave him the opportunity to approach women privately without the concern of anyone walking in on him.
It wasn't just within his own locked down office that Lauer allegedly harassed women. His behavior while traveling was also said to be inappropriate, including an instance where he asked a female producer he had allegedly harassed previously to bring a pillow to his hotel room. Women told Variety that Lauer had a history of asking female NBC employees to his hotel room late at night while covering the Olympics over the years. His wife reportedly accompanied him to the London Olympics specifically because she knew he couldn't be trusted alone.
Another accuser tells the New York Times her horrifying account of being asked to come to Lauer's office in 2001 to discuss a story. She claims he pressed his desk button to lock the door and asked her to sit down and unbutton her blouse, which she did. She says he then bent her over a chair and had sex with her. She says she passed out at some point during the alleged assault with her pants pulled down. When she woke up, Lauer had an assistant accompany her to a nurse.
The woman explains that she never came forward about it before because she thought she may not have done enough to stop him and felt ashamed. She was also worried about losing her job. She says he never made another advance toward her and she left NBC a year after the alleged incident.
A former reporter for the show tells Variety, "Management sucks there," referring to NBC and executives who used to work for the show. "They protected the shit out of Matt Lauer."