Matthew McConaughey Hosts Virtual Bingo Night For Senior Living Facility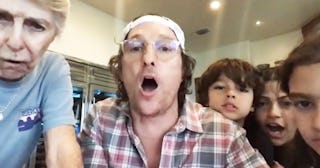 The Enclave at Round Rock Senior Living/Facebook
Matthew McConaughey and his family got in on the Bingo fun
Just when you think you couldn't possibly love Matthew McConaughey any more he goes and hosts a virtual bingo night for a senior living facility in his home state of Texas.
The Oscar winner and his wife Camila, along with two of their kids and McConaughey's mom Kay, took to Zoom to call a game of Bingo for seniors self-isolating at The Enclave at Round Rock Senior Living. The facility posted part of the game on their Facebook page and it's too adorable for words.
"We got I-24," McConaughey says in the video before the whole family starts cheering when one player raises his board. "Richard is waving a hammer up high, we got Charles with the iPad up high. We got two winners!" he says gleefully as the video pans to a screen full of seniors with big smiles on their faces.
This isn't the first time the actor and full-time professor has reached out to help people cope with the stress and fear we are all feeling during this pandemic. He posted a video on March 18 sitting outside his home telling fans not to give up hope.
"In these crazy times that we're in with the coronavirus, let's take care of ourselves and each other," McConaughey starts off. "Let's not go to the lowest common denominator and get paranoid. Let's do our due diligence and take the precautions we need to to take care of ourselves and those of us around us, right now more than ever."
McConaughey uses his "glass half full" attitude as he continued, asking people to "turn a red light into a green light," saying in part, "I believe that green light is gonna be built on the values that we can enact right now. Values of fairness, kindness, accountability, resilience, respect, courage. If we practice those things right now, when we get out of this, this virus, this time might be the one time it brings us all together and unifies us, like we have not been in a long time."
His Bingo game is just one example of McConaughey practicing what he preaches. The Enclave at Round Rock Senior Living folks were grateful for the moment of levity. "Thank you to Matthew, his wife Camila, and his mom Kay for hosting our residents for a few rounds of virtual bingo!" the facility wrote alongside the video. "Our residents had a great time playing, and they loved talking with Matthew about his family heritage and his favorite drink."
We do not deserve this man, but we are grateful for him.