Matthew McConaughey Is Officially A Full-Time Film Professor At University Of Texas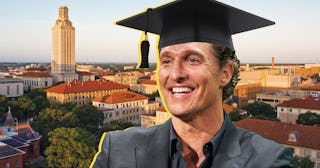 Scary Mommy, The University of Texas at Austin and Rick Kern/Nerthuz/Getty
Just call him Professor McConaughey from now on
Matthew McConaughey is heading back to college this fall at the University of Texas at Austin — but not for a movie role. The Academy Award winning star will actually be teaching as a full-time professor. The school's Moody College of Communication announced in a tweet on Wednesday that the Texas native had been officially added to the school's faculty as a "professor of practice."
"In recognition of his professional pedigree and personal investment in student success, Matthew McConaughey has been appointed a #TEXASMoody professor of practice," the tweet reads. It continued by explaining that he will continue teaching the University of Texas "Script to Screen" class in The Department of Radio-Television-Film at the university. But don't think that McConaughey is going to be lecturing in a suit and tie, like some college profs. In the accompanying photo of the star and his pupils, he proudly rocked a bandana and fanny pack. Yep, that Professor McConaughey is one cool dude.
"We are proud to welcome Professor McConaughey to officially join our world-class faculty," said Moody College Dean Jay Bernhardt in a separate statement issued by the University. "Matthew cares deeply for our school and our students, and we are thrilled that he shares his time and talent to help prepare the next generation of media leaders and innovators."
The actor started co-teaching the class along with another professor at the university, Scott Rice, in 2015. He was even influential in designing the curriculum. "It's the class I wish I would have had when I was in film school. Working in the classroom with these students gives me a chance to prepare them," McConaughey told UT News. "Making movies, turning words on paper into film, is both a science and art — no matter the time or generation. The elements of truth and genuine joy for the process are timeless. That will always be our classroom focus."
McConaughey is actually an alum of the university, returning to his alma mater four years ago as a visiting instructor. Obviously, he has amassed a cult following with the students, not only because of his celebrity status but due to the fact that he is a totally awesome dude. In 2016 he scored major points by driving students home in a golf cart, raising awareness to the school's safe-ride program. He has also appeared in promo videos urging students to avoid drinking and driving.
And when the new basketball arena opens at the University in 2021, McConaughey will hold another title. UT Austin recently announced that he will be the official "Minister of Culture" of the $338 million venue.
But seriously, who better to teach a class about film than a celebrated thespian? It's enough to make us want to go back to school ourselves.