Matthew McConaughey Wants 'More Information' Before Vaccinating His Kids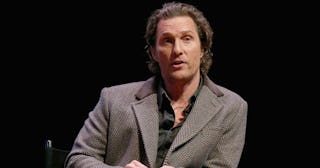 Gary Miller/Getty
Matthew McConaughey isn't ready to vaccinate his kids but the Surgeon General doesn't think that's alright alright alright
Actor and potential Texas gubernatorial candidate Matthew McConaughey isn't rushing to sign his three kids up for the COVID vaccine. Despite being vaccinated himself — and living with his 90-year-old immune comprised mother — McConaughey says he's taking the wait and see approach when it comes to his children. It's a stance that has left a lot of people scratching their heads — including the U.S. Surgeon General.
McConaughey revealed his feelings during an interview at the New York Times Deal Book summit. Asked about vaccine mandates, the actor confessed that he isn't vaccinating his kids "right now." He said that he and his wife (model Camilla Alves, who is also vaccinated) tend to "go slow" when it comes to immunizations for their kids, even before the pandemic.
"Do I think that there's any kind of scam or conspiracy theory? Hell no, I don't," he said. "We all gotta get off that narrative. There's not a conspiracy theory on the vaccine. These are scientists trying to do the right thing."
Still though, the actor said he wants "to find out more information" before making the call — though, the information that's already out there all points to the vaccine being safe and effective. Clinical trials showed the Pfizer shot to be more than 90% effective in preventing symptomatic COVID, with very few side effects. It's been recommended by both the FDA and CDC, and the American Academy of Pediatrics also recommends any healthy child over 5 get it. When you compare that to the hundreds of children who have died from the virus — how much more information could you need?
McConaughey has been fairly vocal about taking the pandemic seriously — he publicly pleaded with fellow Texans to wear masks, and openly disagreed with Governor Greg Abbott's decision to life the state's mask mandates earlier this year. That might leave some fans confused about why he wouldn't want to protect his kids by getting the shot — but McConaughey seemed to suggest that he believed regular testing might be the more important way to prevent the spread of the virus.
"We've quarantined harder than any of our friends have, and still are, two years later," he explained. "We've been doing just a heavy amount of testing… everywhere we can with everybody we come in contact with," nothing that the family also regularly purchases at home tests as well.
That may help keep them safe from the virus — but McConaughey know it's a system that would likely not work for the average person. Still, however, he said ultimately, whether to get children vaccinated should be a parent's choice. "I couldn't mandate having to vaccinate the younger kids."
U.S. Surgeon General Vivek Murthy addressed McConaughey's comments directly during an interview with CNN, expressing disappointment.
"Covid is not harmless in our children," Murthy said. "Many kids have died. Sadly, hundreds of children — thousands — have been hospitalized… I would never wish upon any parent they have a child that ends up in the hospital."
While McConaughey seemed to leave open the possibility that he and Alves may vaccinate their three kids at some point in the future, government officials have stressed over and over again that there's no time like the present. Almost million children have already gotten their first doses, and hundreds of thousands more are set to do so in the coming days. Perhaps their example can help change the mindset of parents like McConaughey who just aren't ready yet.
This article was originally published on