Max Greenfield's Videos About Homeschooling His Daughter Are Comedy Gold
by Julie Scagell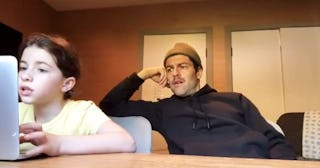 Max Greenfield/Instagram
Max Greenfield is every parent right now
If you're a fan of New Girl (my 16-year-old daughter says it's a must-watch), you're likely already in love with Max Greenfield, who plays Winston Schmidt. But get ready for your heart to grow three sizes bigger because watching him homeschool his daughter is hilariously adorable.
Greenfield and his daughter, Lilly, are doing what we all are — trying our best to navigate the life of homeschool parent/teacher/student without strangling each other in the process. It's been quite some time since most of us have been in school and, well, it's showing. The father-of-two has been filling in his fans on the harrowing process on social media (which you must immediately follow) and it's impossible to watch and not belly laugh.
As the actor takes us through the world of nouns and mustaches (both are tricky), you can see by the look on his face the reality of the situation is starting to set in. But, as Lilly points out, if he hadn't spent so much time "puff puff puff"ing and "glug glug glug"ing through his own high school and college years, he may make a better teacher.
https://www.instagram.com/p/B-Fvs2VHbLw/
Another update comes as Greenfield tries (and fails) to read, "The Birchbark House" and his daughter sends a message to her teacher to tattle on him. "My daughter sent this message to her teachers today! Just in case you were wondering what bottom looks like," he says next to a picture of her note. Busted.
He also shared a riveting video of himself reading a passage to Lilly (who is rightly on her phone) and it's no wonder she doesn't understand. He titles this one simply, "shit show" and I can say with every fiber of my being I know exactly how he feels.
Lilly soon emerges as the hero we all need in times like these, telling her dad in one video to stop singing because "he has a dog shit voice."
Then, just when you think things can't possibly get better, Greenfield eggs her on by asking, "how long does it take to spell Massachusetts," to which she replies, "Dad, I need your shit like I need a hole in the head." Bless this child and everyone who has been involved in raising her.
"God bless the teachers (the real ones)," Greenfield captioned one of the videos after he realizes Lilly is both on TikTok and doing dance moves behind him.
This is the entertainment we can all use right now and a much-needed break from our own homeschooling adventures.
This article was originally published on