It Is Maxine Waters O'Clock, Folks. And She Is Reclaiming Her Time.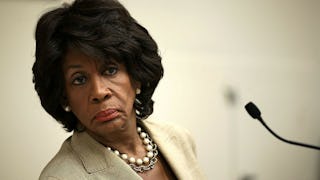 Alex Wong / Getty Images
Maxine Waters is the real MVP and We. Are. Here. For. It.
She may already know how great she is, but we are going to hit some of the highlights anyway.
You are likely at least a little familiar with the representative from California. Since refusing to attend the Trump inauguration earlier this year, Rep. Waters has been on everyone's radar— millennials especially. Even though she has a reputation for speaking her mind, 45 has caused her to turn the dial up to levels that would make Queen of Thorns Olenna Tyrell blush. Calling for his impeachment since day one, Waters doesn't show any signs of letting up on the president, or his cabinet and staffers, any time soon.
We love this about her.
Maxine Waters may be making headlines leading the resistance, throwing shade, and not taking names because she is not here for whoever is drawing said shade, but she is in no way new to politics. With 37 years of public service under her belt, Rep. Waters is in her 14th term in the House of Representatives and is its longest-serving black woman. A longtime champion for people of color, women, children, and the poor, she is responsible for the country's very first statewide child abuse prevention training program as well as the founding of the Center for Women Veterans and organizations focused on job and life-skills training for underserved youth, and grassroots efforts to rebuild Los Angeles after unrest in the 1990s.
She's a badass.
As a Congresswoman, "Auntie Maxine" — a nickname given to her by young people because of her direct way of speaking — has fought for voting rights, pushed to expand health care, authored programs to protect people from foreclosures during the housing crisis, and crafted legislation providing grants to restore neighborhoods after that crisis — all this while encouraging and supporting other women who wish to run for office.
She is experienced. She is capable. She is consistent. She is purposeful. And she is not apologizing for it. After Bill O'Reilly made racist and sexist remarks about her hair when he was supposed to be commenting on her statements from the House floor about patriotism in the Trump era, Rep. Waters had this to say: "I am a strong black woman, and I cannot be intimidated. I cannot be undermined."
Yes!
Which is why so many of us engaged in serious eyeball calisthenics last week when Treasury Secretary Steve Mnuchin testified before the House Financial Services Committee with seemingly not a clue in the world as to whom he was tangling with.
Mnuchin tried his damnedest to dance around a question from Rep. Waters, the ranking member of the committee. The question was in regards to a May 23 letter sent by Waters and other Democratic members of the committee, seeking answers about financial ties between the Trump administration and foreign banks. The letter had gone unanswered, even though Mnuchin's department claims to take congressional requests very seriously.
The treasury secretary launched into an attempt at flattery, praising Waters and then talking over her to continue his praise as she assured him that she knows she is great and pressed him to answer the damn question instead of wasting her allotted time.
Mnuchin tried to protest, accusing her of breaking the rules, while Queen Maxine, First of Her Name and Giver of No Shits, proclaimed "Reclaiming my time," over and over, demanding that Mnuchin quit wasting what was not his to waste.
We should all write Auntie Maxine thank-you notes so she knows how much we appreciate the slogan that will inevitably be emblazoned across our T-shirts, tote bags, and protest signs in the coming months. She basically scolded Steve Mnuchin — the equivalent of me clapping at my preschooler like "AH BAH BAH BAH BAH! NO. SIR" when he has gone completely off the rails and I need to snap his attention back to reality. And the reality for the treasury secretary was that you cannot come at Maxine Waters without getting slapped with her best "Not today, Satan" relentlessly until you submit to the woman in charge.
Women watched the now viral clip of their exchange, nodding our heads and grinning from ear to ear, ready to reclaim our time in meetings at work, during mansplanations from strangers, while shooting down that racist and drunk uncle at the Thanksgiving table, on dates with someone who goes an entire meal talking about himself without asking us a single personal question, and in every other situation where women are expected to meekly await another turn while men think nothing of wasting our time and speaking over us.
People of Earth, take notice. Maxine Waters is not to be played with, messed with, talked down to, or spoken over. She is too busy protecting us from the Russians to play your games and will shut that crap down while demanding that said shutdown not count against her time.
And we plan on following in her footsteps.
This article was originally published on