'Maya The Bee' Episode Pulled After Giant Penis Shows Up And Ruins It All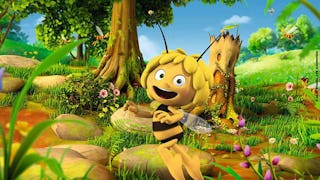 Image via Facebook/ Maya the Bee
One parent got more than she bargained for in a recent episode of Maya the Bee
Most parents appreciate kid's movies with a little adult humor thrown in. From dirty one-liners, to pranks and sexual innuendos, creators of children's content have stepped up to make watching TV with our kids more bearable. So, where does one draw the line between comedy and inappropriate?
Apparently a penis and balls drawn into a cartoon log.
Netflix is coming under fire this week after one concerned mom saw something she wasn't bargaining for on her kid's favorite show. The now-yanked episode of the Netflix original kids' series, Maya the Bee, featured a drawing of an erect penis in the background drawn into a log.
Concerned parent Chey Robinson posted the snippet to her Facebook page (which she has since taken down), saying "I know I'm not going crazy and I know that something like this shouldn't be in a kids' show whatsoever. I'm extremely disgusted by it, there should be no reason my kids have to see something like this," the AV Club reported.
In a sentence that is sure to make every man shudder — it's true — if you look close and squint your eyes, you can make out the penis and balls.
The episode, titled "King Willi" (obvi) shows Maya and her woodland friends buzzing around a hollowed out log, seemingly unaware that a giant looming penis is lingering mere inches away. It's easy to miss if you aren't paying attention which is most of us during every single children's program our kids beg us to turn on. But Robinson was evidently watching this episode like a hawk and has demanded the dick be pulled. (I'm sorry.)
Once Robinson's story went viral, Maya the Bee series producer Studio 100 took "King Willi" out of its lineup, saying "An absolutely inappropriate image has been discovered in a four-second fly-by scene in one episode of the total of 78 episodes of the series," The Hollywood Reporter reported. "The origin of this image obviously results from a very bad joke from one of the 150 artists working on the production."
Studio 100, the artistic team responsible for the episode has since apologized and "is taking all suitable technical measures to remedy the situation."
Understandably, no parent wants to see X-rated material in children's programming, but seeing as how countless supervisors, producers, Netflix executives, and 149 other artists didn't notice the balls on the wall, we're thinking the kids wouldn't likely have noticed it either.
Perhaps in the future those responsible for creating children's content should leave the penis drawings to 12-year-old boys. Clearly someone found "King Willi" too irresistible to riff off of.