#MaybeHeDoesntHitYou: Viral Hashtag Reminds Us Domestic Abuse Isn't Just Physical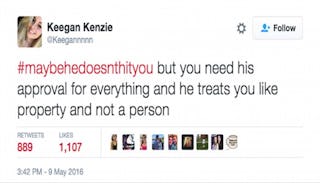 Hashtag raises awareness about different forms of domestic abuse
When most people think of domestic abuse, they picture hitting, slapping, shoving — something that leaves a mark. In reality, abuse comes in many forms, and a new viral hashtag is raising awareness for all the other ways a partner can be harmed by someone they love.
Yesterday on Twitter, writer Zahira Kelly started the hashtag #MaybeHeDoesntHitYou with a series of tweets listing hypothetical scenarios indicative of verbal and emotional abuse. "Maybe he doesn't hit you," reads one, "He just complains about your belly after you had his kids."
Before long, the hashtag took off, and hundreds of people — both women and men — started sharing stories of abusive partners and relationships. Reading through the tweets, they cover everything from verbal abuse to emotional abuse to various forms of manipulation and controlling behaviors. Many of them even confront the way abusers often degrade victims and make them feel unworthy of being loved or incapable of leaving the relationship.
The hashtag isn't the first to draw attention to the issue of domestic abuse. In 2014, the hashtag #WhyIStayed went viral after Baltimore Ravens player Ray Rice was seen assaulting his partner in leaked footage from an elevator. The hashtags started for different reasons, but both are a means of educating people about the various signs of domestic abuse and changing the culture of victim-blaming that currently surrounds issues of abuse in relationships.
According to the nonprofit Safe Horizons, one in four women will experience some form of domestic violence in her lifetime, and over three million men in the U.S. alone are victims of physical assaults by their partners. Also troubling is the fact that over three million children witness domestic abuse in their homes every single year. I would know, because I was one of them.
[related_post]
I grew up with an abuser. My father was physically and verbally abusive towards my mom, and while he never laid a hand on us kids, my siblings and I all carry the scars of growing up witnessing the manipulation, controlling ways, and degradation that played out in our most formative years. My mom left when I was nine, and took us with her, but that doesn't make it go away. That doesn't solve the lingering issues. It's taken tons of therapy and hard work to overcome the patterns I learned in my youth and figure out how to have a healthy relationship. For people who don't have the privilege of help or treatment, sometimes that healing never happens.
If there's one good thing that comes from starting this conversation, it's educating people about the many forms abuse can take and letting survivors know they aren't alone. Abusers try to isolate their victims and make them feel like they deserve the treatment they're getting. When we share our stories, we reveal the lies they tell and we gain strength from coming together in an environment of respect and understanding. Hopefully these conversations can lead to meaningful change that helps people in abusive situations of all forms.
If you or someone you know is a victim of domestic abuse, visit Safe Horizons for a toll free help hotline and a list of places to seek support.
This article was originally published on