6-Year-Old's Paper Replicas Of Oscar Dresses Will Give You Serious Crafting Envy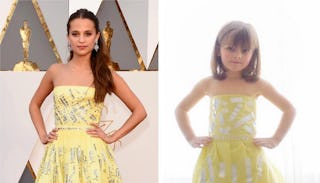 6-year-old Mayhem brilliantly recreates Oscar dresses out of paper
The Oscars red carpet is filled with gorgeous dresses, but you've never seen anything like the red carpet fashions this six-year-old makes out of paper and tape.
Mayhem — which is not her real name — is a budding fashionista who's known for recreating iconic award show dresses using standard art supplies. Her mom, Angie Keiser, started sharing the looks on Instagram about two years ago and Mayhem quickly became a viral sensation.
Since then, she's made a name for herself crafting copycat looks from both the Grammys and the Oscars, and after last night's Academy Awards ceremony, she decided to surprise her fans by recreating her favorite looks.
Here she is rocking a gorgeous yellow number worn by Best Supporting Actress winner Alicia Vikander :
And here's her take on Best Actress winner Brie Larson's stunning gown:
Pretty incredible, right? And don't forget: these are made out of paper.
Mayhem's mom told the Huffington Post they create dresses using construction paper, gift wrap, tissue paper, foil, and whatever else they have around the house. Their creations are held together with packing tape and glue, and though they look complex, Mayhem contributes more than you might think. "That's one of the best things about this project," says Keiser. "I see her learning new skills every single day. At this point, she knows exactly how many sheets of construction paper she needs to make herself a top and a bottom. She can lay the entire thing out and tape it together all by herself."
Mayhem started making dresses with her mom when she was just four years old. Since then, Mayhem has crafted dresses inspired by Taylor Swift, a holiday barbie, and even a shark she saw at the aquarium. The budding designer has also appeared on Ellen to showcase her designs, and even has a gig creating kids' clothing with J. Crew.
There's no telling whether Mayhem will continue designing as a career, or if she'll end up finding completely different interests down the road. After all, she's barely made it out of her preschool years and she's already more successful than many adults.
One thing that's obvious is that she's got a gift for fashion and DIY, and it's adorable that her mom is so supportive. Mayhem's interest in fashion isn't something that was forced upon her. Rather, she expressed a passion for something and her mom nurtured her creativity. Regardless of what happens in the future, creating these dresses obviously brings Mayhem a lot of joy, and it's a reminder of the surprising and wonderful things that can happen when we indulge our kids' creative spirits.