Maynard James Keenan Of 'Tool' Accused Of Raping 17-Year-Old Fan
by Cassandra Stone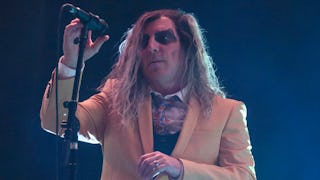 Image via Getty/Juan Aguado/Redferns
Since the victim's story went viral, more allegations against Maynard James Keenan have surfaced
Disturbing news surrounding the frontman for Tool and A Perfect Circle, Maynard James Keenan, has surfaced online detailing the rape of a 17-year-old fan in 2000. The victim shared her story in a series of tweets posted to an anonymous Twitter account — and the details she shares are horrifying.
While performing with A Perfect Circle back in 2000, Keenan was 36 years old and on tour with Nine Inch Nails. The victim, posting from @IWas17HeWas36, shares she was a huge fan at the time and attended the concert with her high school friends and boyfriend.
She says she was in the front row, and Keenan noticed her in the crowd.
She asked if her boyfriend could go with her to meet the band, but was told only "one pass" was available. She went backstage.
She says Keenan began rubbing her neck while talking about the movie. He then took his pants off — the victim says all she could do was "sit there, unable to move."
[TW: graphic details about rape below.]
After being raped, she says the following few minutes aren't clear — but she recalls her boyfriend was waiting for her and his face was "sick with worry." She says she kept the rape to herself to avoid upsetting him.
The victim says she's coming forward now because discussions surrounding consent are much more prevalent now, in the era of #MeToo.
She says she contracted a strain of HPV from Keenan, who didn't use a condom when he raped her. Another reason for coming forward, she says, is because she later heard Keenan rapes underage girls frequently while on tour.
Since the victim's story began going viral, plenty of others have come forward with similar stories on both Twitter and Reddit.
It's absolutely horrifying to think of how often this has happened — because of Keenan and other men just like him, taking advantage of their fandom to perpetuate abuse.
https://twitter.com/jetpack/status/1011307366401363969
Keenan has responded to the claims, denying them in a defensive and condescending tweet.
The victim is asking anyone else who has been assaulted or raped by Maynard James Keenan to come forward and share their story with her.