San Juan Mayor Wears 'NASTY' T-Shirt In Response To Trump Comments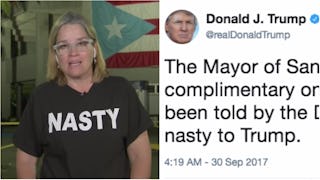 Image via Twitter/Univision
Carmen Yulín Cruz wears "NASTY" T-shirt after president insults her on Twitter
If you haven't been introduced yet to Carmen Yulín Cruz, allow us. It'd be our pleasure. She's the mayor of San Juan who is dealing with unfathomable devastation and disaster right now in Puerto Rico after Hurricane Maria. This woman has proved in the days since the storm hit that she's nothing short of a hero.
And when she has a message to get across, she wears it across her chest. Literally.
She's been wading in sewage water, helping save lives, and pleading for help and aid from the U.S. government. Put another way, she's been busting her ass and being an exemplary leader. She's also been getting quite political with her fashion because maybe that's what it takes to get relief and aid to an island where people are suffering every day without an end in sight.
On Wednesday, she wore a black T-shirt with the word "NASTY" printed on the front during a live television interview with Univision, presumably in response to Trump's shameful tweets about her on Saturday.
Here's what she had to say:
"When someone is annoyed by someone claiming lack of drinking water, lack of medicine for the sick, and lack of food for the hungry, that person has problems too severe to be explained in an interview. What is really nasty is that anyone would turn their back on the Puerto Rican people," Yulín Cruz told Univision.
This isn't the first time the mayor used her fashion to make a point. Over the weekend, Yulín Cruz wore a T-shirt that read, "HELP US, WE ARE DYING."
She's not messing around and we don't blame her. Yulín Cruz seems to be fed the hell up after Donald Trump, from his golf club, tweeted on Saturday: "The Mayor of San Juan, who was very complimentary only a few days ago, has now been told by the Democrats that you must be nasty to Trump."
He later added: "Such poor leadership ability by the Mayor of San Juan, and others in Puerto Rico, who are not able to get their workers to help. They want everything to be done for them when it should be a community effort."
If you're thinking this can't be real life, welcome to the club. Twitter wasted no time telling Trump what a garbage (human?) he is and dragged his ass through cyber mud.
Especially outspoken were celebs, and we are totally here for it.
People also social-media-high-fived Yulín Cruz for her very poignant attire choices and the powerful statement she's making. Many expressed their love for her with simple sentiments of fandom and of course, the best GIFS.
All of this follows Trump's gross and embarrassing visit to P.R. yesterday where he was seen throwing paper towels into a crowd, humiliating everyone there and everyone that watched his public display of soullessness.
Currently, 34 deaths have been reported after Hurricane Maria and that number is likely to rise, according to ABC News. The storm knocked out power to the majority of island, hospitals are still operating on generators (which will likely run out at some point), and there's a lack of clean drinking water and food. The extent of the damage is still being assessed, but it's obviously a nightmare for the people living there.
Being vulnerable in times of desperation and asking for help is the embodiment of being human. It certainly isn't always easy to ask for help, but when we put our egos aside and prioritize what's important, something bigger than us, we fall to our knees and ask for help. We ask for mercy. We ask for grace. If that makes any of us, including Yulín Cruz "nasty," then so be it. We'd rather be nasty, humble, and wield the power of vulnerability to impact the greater good, than be a total non-human like the (person?) shaming us for it.
This article was originally published on