Mayor Of San Juan: "I Am Begging Anyone Who Can Hear Us To Save Us From Dying"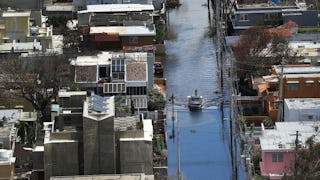 Joe Raedle/Getty Images
There is no doubt that this year has been overwhelming, and devastating, when it comes to natural disasters. Houston and Florida were left in shambles, and the Caribbean has been ravaged as they were hit with storm after storm. Puerto Rico, barely having recovered from the damage of Hurricane Irma, was literally destroyed by Hurricane Maria a week and a half ago.
Most of the island's inhabitants are without the most basic necessities. Food, water, safe shelter, electricity.
Our government will have you believe that things are going well in terms of relief efforts and aid, but the mayor of San Juan, Carmen Yulin Cruz will tell you the truth.
"I am begging, begging anyone who can hear us to save us from dying. If anybody out there is listening to us, we are dying, and you are killing us with the inefficiency."
People are DYING. Let that sink in for a minute. Puerto Ricans are American citizens, and they are begging for mercy. Our government is letting innocent people die because of bureaucratic nonsense. WHAT THE ACTUAL FUCK IS HAPPENING?
The U.S. government has a responsibility to these people, and they are failing greatly. These people are being forced to drink from creeks because their entire infrastructure has been obliterated. They don't have access to clean drinking water. Aid, in terms of food and water have been slow to arrive, and even slower still to actually get to the people who so desperately need it.
According to The Hill, the congressional delegate from the U.S. Virgin Islands, Del. Stacey Plaskett, and the top Democrat on the House Oversight Committee, Rep. Elijah Cummings have joined forces to call for an emergency hearing in response to the disaster. "Urgent action by our Committee now could help accelerate the federal response to the devastation in Puerto Rico and the U.S. Virgin Islands and make a measurable and significant difference in the lives of American families there," read a joint letter from the two.
Yes. That is what needs to happen. Now. Not tomorrow, not next week. Now.
And while the mayor of San Juan is literally begging for the lives of her people, what is the president doing? TWEETING and GOLFING.
"They want everything done for them when it should be a community effort" he wrote. Excuse me? A U.S. Territory wants the U.S. to help them because you know, the U.S. has the resources to do so, but they "want everything done for them." Where is the logic in that?
The mayor of San Juan is wading through sewage to deliver water and other necessities to her people, while the president tweets from the golf course calling her ungrateful. I can't believe this is our reality, but here we are.
He is disparaging a woman who is asking for nothing but help and support after a completely devastating act of nature. I literally cannot with this man anymore.
Since our current administration is failing miserably, all of our living, former presidents, George H.W. Bush, George W. Bush, Bill Clinton, Jimmy Carter and Barack Obama have joined together to create a fundraising campaign to help with relief efforts. Our former presidents, Republican and Democrat alike, are putting forth more effort (and compassion) than our current government. Unbelievable. But I'm glad they are doing it.
Because their entire power grid was destroyed, it could be months before power is restored. MONTHS. There are medically fragile children and elderly citizens who depend upon electricity to live and breathe, folks. This isn't just sitting in the dark. But sure, let's take jabs at the mayor of San Juan on Twitter right in between golf swings.
According to another tweet, the president will be visiting Puerto Rico this week. I'm sure his visit will not be met with a warm response.
People are dying. The mayor is begging for help. Our President is failing them. We MUST do something, so for now, we need grassroots efforts . If you are in a position to donate, please do. Puerto Rico need us.
This article was originally published on