McDonald's Was Either Hacked, Or Someone Snapped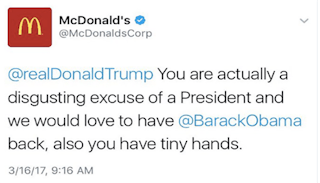 It's becoming the tweet heard 'round the world
The McDonald's Twitter account fired off a tweet this morning that exploded on social media — for the 20 minutes it was up. Not only was it tweeted, it was pinned to the top of the @mcdonaldscorp Twitter page.
The tweet read, "@realDonaldTrump You are actually a disgusting excuse of a President and we would also love to have @BarackObama back, also you have tiny hands."
McDonald's quickly removed the tweet, and attempted to do some quick recon. Not before the tweet was shared and liked hundreds of times though.
"Twitter notified us that our account was compromised," the follow-up tweet read. "We deleted the tweet, secured our account and are now investigating this."
The people of Twitter were there to make sure no one missed it though:
And the responses were hilarious:
Social Media Manager going out in a blaze of glory? Someone just snapped? McDonald's was weirdly hacked by someone who really, really hates Trump?
Oh, 2017. Stay weird.
This article was originally published on