McDonald's Forced To Hire Bouncers After Terrible Kids Set Fires, Cause Thousands In Damage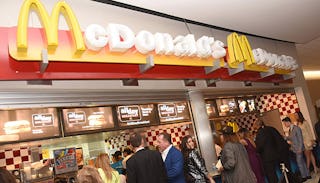 LOS ANGELES, CA - FEBRUARY 15: A general view of atmosphere at McDonald's All Day Breakfast bar at the 58th Grammy Awards on February 15, 2016 in Los Angeles, California. (Photo by Vivien Killilea/Getty Images)
McDonald's forced to hire bouncers after kids terrorize customers and threaten employees
A McDonald's in Manchester, England was forced to hire bouncers after groups of kids collectively lost their minds in the last few months and set fire to restaurant property, threw food at customers, and harassed employees causing thousands of dollars in damage.
The bouncers will work the door of the chain restaurant during the dreaded hours of 3 p.m. and 6 p.m. that parents know all too well. What are kids supposed to do after school before their parents get home from work? According to about 40 kids in England, terrorize patrons of a fast-food spot for months until the police, local politicians, and school teachers get together to determine how to stop your unruly antics, the Manchester Evening News reported.
Kudos to McDonald's for reaching out to so many people in the community and handling the situation in the best way they thought how. But where are these kids' parents and why aren't they pissed off that their children are behaving like lunatics? Moms and dads can't be everywhere or know every crappy thing their kid does, but if your child is part of a gang of youths destroying the local McDonald's, surely you'll find out at some point.
"There's always a fight happening, or they're deliberately disturbing the public," a person who lives near this McDonald's told the BBC. "I even heard one teenager swear at police. He was then arrested."
Being clueless doesn't seem like a good enough excuse for parents in this case. If the police didn't drag their kid home, maybe a neighbor saw them or a teacher had a clue something was up and gave the parents some warning that their kid might soon be causing mayhem. Typically kids don't go from angelic one day to setting a fire inside a business the next. Plus, if the parents didn't hear about it from someone they knew they at least read about it in the news since this isn't the first time a kid took their angst out on a McDonald's customer. A 4-year-old girl was injured after two older girls smeared super glue on a toilet seat at a McDonald's on New Year's Eve, The Telegraph reported. And other nearby McDonald's locations won't allow people under 18 inside without an adult after constant trouble from local kids.
Only two kids at a time will be allowed in at the Chorlton location under the new rules after customers said they didn't feel safe and employees told management they didn't want to come to work anymore. "The safety of our employees and customers are of the utmost importance, and we take a zero-tolerance approach to any activity that puts this at risk," a McDonald's spokesperson said.