McDonald's Is Bringing Back Retro Happy Meal Toys For Their 40th Anniversary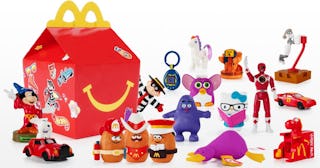 McDonald's
These McDonald's retro Happy Meal toys will make your inner child smile
If you frequent the Golden Arches every now and again (or anytime you pass one so your kid stops screaming from the backseat) or think back fondly on your own childhood Happy Meal, then you're going to love this news. In celebration of their 40th anniversary of its kids' meals, McDonald's is giving out special limited-edition Surprise Happy Meal toys.
Beginning November 7th-11th and only while supplies last, McDonald's will be giving away throwback toys in more than 90 countries around the world. Some of the toys being featured are Cowboy McNugget, Grimace, McDonald's Hot Wheels Thunderbird, Space Jam, Bugs Bunny, Patti the Platypus Beanie Baby, My Little Pony, and Hello Kitty, to name a few.
"Parents tell us how fondly they recall their favorite toys," said Colin Mitchell, McDonald's Senior Vice President, Global Marketing in a press release. "So, unboxing the Surprise Happy Meal together creates a real moment of bonding with their children. We hope these toys are something that they will treasure and remember."
No matter how old you are, you remember the feeling of tearing into your Happy Meal to find out what toy you got (and prayed it was better than your sibling's). Now, our kids will be able to experience collecting some of our childhood favorites because what kid doesn't love us going on and on (and on) about how much better things were back in our day (because they were).
Plus, with McDonald's now offering more healthy foods like fruit, vegetables, and low-fat milk with their Happy Meal, we don't need to feel All Of The Guilt stopping in 12 times between the 7th and the 11th to get Mommy that Hamburglar toy she remembers having when she was little. Let's be honest though, there's rarely guilt in getting our kids to eat something without complaining and getting a fun toy out of the deal (which buys us at least three minutes of peace and quiet). That's a parenting win-win.
In all, 15 toys will be available globally with two extra Disney exclusives for the U.S. "Since the Happy Meal was introduced on the menu, it quickly became synonymous with our brand," McDonald's CEO Steve Easterbrook said in a statement. "Today, this iconic red box creates lasting memories for billions of families annually across the world."
So, mark your calendars and head on over for some McNuggets, a hamburger, or fish sammie and get a piece of your childhood back. Who knows, if you don't make a big deal out of the toy, you can steal it when the kids aren't looking and have yourself a walk down memory lane.