Happy Meal Fitness Trackers Were Such A Bad Idea Kids' Bodies Literally Rejected Them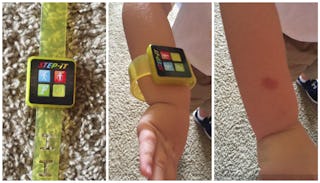 Image via Facebook
McDonald's misstep: activity trackers recalled after claims of rashes on children's wrists surface.
Here's your cheeseburger with fries, possibly apple slices (or Go Gurt) with milk all for 530 calories, kid. And you get a healthy fitness tracker to work it all off. Don't worry, it will only take you TWO DAYS or so to burn those calories off. Talk about mixed messages.
In an attempt to promote a healthy lifestyle (go figure), McDonald's stepped up their game and threw Step-It Activity trackers into Happy Meals as toys for kids. It was a pedometer of sorts that counted your steps on a digital screen. But, according to one mom, the tracker was burning more than calories. It was allegedly burning her kid.
Casey Collyar, a mom in Arkansas, posted last week on Facebook that her child got burned from the McDonald's fitness tracker after wearing for eight minutes.
"If your kids have this happy meal toy do not let them play with it. Cason has a burn after playing with the toy for about 8 minutes. The toy has a red light in it that is powered by the battery on the back that possibly is the cause of the burn," wrote Collyar. Her post was shared over 100,000 times.
McDonald's voluntarily removed the trackers from restaurants in the United States and Canada last week. No official statement has been released on the company website or social media. But company spokeswoman Terri Hickey told CNN, "We have taken this swift and voluntary step after receiving limited reports of potential skin irritations that may be associated from wearing the band," says Hickey. "Nothing is more important to us than the safety of our customers and we are fully investigating this issue."
That news was fun to break to my kids.
"Hey kids you know those cool step-things we got from McDonald's?"
"Yeah," they said in unison with caution.
"Well, we gotta throw them out," I shouted through our upstairs hallway.
"WHAAAATTTT??!!!" they replied.
Last week was particularly busy for my family so, holy shit, we went to McDonald's drive thru and got Happy Meals. TWICE. Forgive my heathen soul, thou hast committed the crime of going to McDonald's, and not just once, but twice. My daughters thought it was so cool that by consuming FOUR happy meals in one week, there would be enough fitness trackers for the whole family. Cue slow claps. Also cue award music because I am apparently mom of the year over here for possibly contributing to my kids future obesity, high blood pressure and diabetes. My six-year old daughter insisted I wear the orange McDonald's fitness tracker to my girl's night out. We were seeing Bad Moms. How appropriate.
I wore it out of the house, then promptly threw my McDonald's orange fitness band in my purse at the first stoplight on the way to the movie theater. I didn't get burned from wearing it. My kids didn't either. Not that any of us wore the fitness tracker from McDonald's for any length of time (or took it seriously).
It's hard to undo an image like that. I don't go to McDonald's for salads. I go there when I have Big Mac and fries cravings. And Shamrock shakes. I bring my kids there when we are literally scrambling and starving. That's it. We all know that eating wholesome food with tons of fruits and veggies is the way to live. I give Mickey D's an "E" for effort.
This article was originally published on