McDonald's Turned Their Logo Upside Down For Women's Day And Twitter Has Questions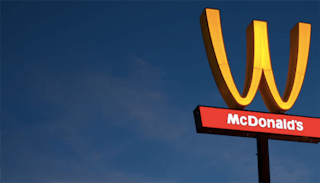 Image via McDonald's
McDonald's is celebrating International Women's Day and the internet is wondering a few things
If you've driven past a Lynwood, California McDonald's today, you may have done a double-take after seeing the Golden Arches.
To celebrate International Women's Day, McDonalds turned their sign upside-down in one location, changing it from "M" for McDonalds, to "W" for women. They're also making the change on all of their digital channels, like Facebook, Twitter and Instagram, all day Thursday, and a representative told Business Insider 100 stores will have "packaging, crew shirts and hats, and bag stuffers" to commemorate the day.
"In celebration of women everywhere, and for the first time in our brand history, we flipped our iconic arches for International Women's Day in honor of the extraordinary accomplishments of women everywhere and especially in our restaurants," McDonald's global chief diversity officer, Wendy Lewis, said in a statement. "From restaurant crew and management to our C-suite of senior leadership, women play invaluable roles at all levels, and together with our independent franchise owners, we're committed to their success."
On the McDonald's website, the company is also highlighting a handful of women who work for the organization, honoring their work achievements in online profiles.
The upside-down logos are certainly eye-catching. But it looks like some heard the company's statement and thought something about it felt just a little off.
https://twitter.com/jetpack/status/971783374334582785
Also there's the fact that the upside down arches don't necessarily look like a "W" at first glance, and that tons of people might not know what it's supposed to represent.
McDonald's tweeted from its own, official account that the company is "proud to share that 6 out of 10 restaurant managers are women."
It's a nice gesture and a step in the right direction. Hopefully, the company watches its social media channels to see what women thought of the idea so they can give it another shot next year.
This article was originally published on