McDreamy Is Dead and We're Still Not Recovered
by Hollee Actman Becker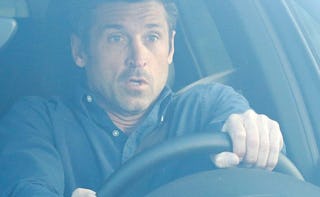 I was a huge fan of the show from around 2005 to 2011, but I had no idea what had taken place in the halls of Seattle Grace since I last tuned in. Didn't matter. Because almost the entire episode was shot outside of the hospital, focusing on Derek Shepherd's heroic efforts to save four victims of a fiery car crash—and OMG one of them was Sydney from Parenthood!—only to get hit by a tractor-trailer as he was driving away from the scene.
Spoiler alert: he died. Which still shocked me, even though I knew it was coming. So serious props to show creator Shonda Rhimes. The tension was building so high for the entire hour that I can only remember feeling this way during a television show one other time—while watching Meadow try and parallel park during the series finale of The Sopranos. There was just something about the way everything was shot and paced that had me in tears from about five minutes in until a few hours after—and I don't even really watch this show.
Full disclosure: 12 hours later, I'm still not fully recovered.
Apparently, I'm not the only one. Because despite the fact that Entertainment Weekly accidentally leaked news of McDreamy's demise earlier in the day when copies of an issue with an exclusive interview with Patrick Dempsey reached hands a bit too early, the Internet still exploded with shock and indignation.
Some hardcore fans even compared Rhimes' behavior to that of, um, an abusive spouse or serial killer:
Way harsh. But obviously emotions are still running high. Myself included, and I don't even go here. The one thing that did manage to make me laugh today, however, was this tweet that references Dempsey's turn in one of my all-time favorite '80s movies, Can't Buy Me Love.
So close, Shonda. So close.
At least we have the Amelia Shepherd relapse storyline to look forward to now.
This article was originally published on