USA Gymnastics Paid $1.25M To Silence McKayla Maroney
by Jerriann Sullivan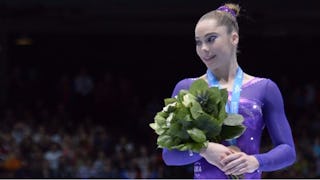 Image via Getty Images
Maroney shared her #MeToo story this fall
The USA Gymnastics organization tried to stop McKayla Maroney from speaking out about the horrible sexual abuse she experienced by her team's doctor, according to a new lawsuit.
USA Gymnastics is the national governing body of gymnastics in America, but their handling of Maroney's case has a lot of people – especially parents – worried. This fall, the Olympic gymnast shared her story with the world. Dr. Larry Nassar, who pleaded guilty to molesting 10 girls, repeatedly abused Maroney. But a year before she shared her experiences publicly, Maroney informed USA Gymnastics and the organization responded by making her sign a non-disclosure agreement as part of a financial settlement to pay for psychological treatment in the wake of the abuse she experienced, NBC reports. Powerful individuals and institutions often use NDAs during financial settlements as a way to silence survivors. She was paid $1.25 million to stay quiet.
Maroney has filed a lawsuit against USA Gymnastics, the U.S. Olympic Committee, Michigan State University, and Nassar. John Manly, Maroney's attorney, said the confidentiality agreement was "hypocritical, immoral and in this case illegal." In California, where Maroney lives, a child in a sexual abuse case can't be forced to sign an NDA as part of a financial settlement. "Those responsible for this should be removed from the Olympic movement and USA Gymnastics," Manly told NBC News. "If they would treat one of the most famous athletes in world like this, how poorly would they treat a recreational gymnast abused by her coach?"
He makes a great point. If USA Gymnastics really cared about kids wouldn't they want to do everything possible to help the girls who suffered through this and prevent Nassar from doing it again?
The lawsuit accused USA Gymnastics of pushing the NDA so "it could further conceal and shield from public scrutiny, outside investigation, and law enforcement, the true nature of Nassar's horrific sexual abuse of minors." It goes on to say, "Plaintiff alleges that Defendant USAG had a plan to keep the sexual abuse of Nassar quiet, and allow Nassar to quietly leave USAG, further silencing his victims." The doctor worked with the organization for 20 years but was let go in 2015 after athletes complained about him. USA Gymnastics didn't make their knowledge of his abuse public and Nassar kept treating and allegedly assaulting athletes via his job at Michigan State University.
More than 140 girls and women have accused Nassar of sexual abuse. "The government said he had 37,000 images of child pornography, including images of children as young as infants," MLive reports. His victims are attempting to heal while also struggling with the fact that images of them could be all over the web. "Nassar would continuously, obsessively and compulsively photograph Maroney," the lawsuit reads. "She believes photographs were taken of her while Nassar was sexually abusing her under the guise of treatment." The Olympic gymnast "continues to worry, distress, experience concern, anxiety, and depression over whether Nassar's photographs of her are still circulating through the internet, and whether they are possessed by other pedophiles and sexual deviants, and whether she will ever know how widely these photographs have been shared or whether they will eventually surface later in her lifetime," according to court filings.
USA Gymnastics blamed Maroney's attorney at the time – Gloria Allred – for the NDA. The U.S. Olympic Committee denied any role in the settlement. MSU refused to comment on the lawsuit.