The 'Me Voting In 2016 vs. Me Voting In 2018' Meme Is A Mood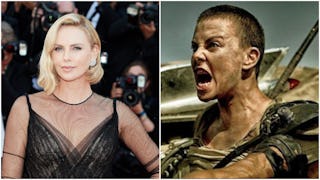 Image via Getty/Epsilon/Warner Bros
"Me Voting In 2016 vs. Me Voting In 2018" memes are taking over the internet and they are ridiculously accurate
The midterm elections are officially here and if you're feeling like an exhausted, nervous, terrified shell of yourself, you're very much not alone. Twitter is exploding with "me voting in 2016 vs. me voting in 2018" memes and they'll speak to you on the deepest of levels.
Basically we've all gone from shiny, hopeful fairy princesses to club-wielding forest beasts.
Remember when you cast your ballot in 2016 and there was (cautious) hope and whimsy and positivity in the air? Things were pretty bad during the actual campaigning process but we hadn't fully crossed over the line into insanity. Now, two years later, we're all a little older, a little wiser, and a whole lot more enraged.
By that, we mean we've turned from cute corgis to wolves WHO ARE ABOUT TO LOSE THEIR FREAKING MINDS.
We went from Paddington Bear to the bear who attacked Leonardo DiCaprio in The Revenant. Side note: that movie was ridiculously terrifying and who knew any of us would ever find said wolf deeply relatable?
Speaking of Leonardo DiCaprio…
No, seriously, we're so, so tired and have lost all of our innocence. We're pretty much just Santa Claus with the grey beard and zero cute reindeers.
Furiosa is us and we are her. Charlize knows what's up.
Anybody watch the original Sabrina the Teenage Witch and the super dark reboot on Netflix? You'll know exactly what this means.
T. Swift knows what the deal is. We should all probably be listening to "Bad Blood" as we head to the polls.
Some classic, accurate Titanic content right here.
No but seriously, emotionally exhausted Ben Affleck is 2018 midterm elections mood.
It was mostly all good in the Katy Perry hood until 2016. Cue Jaws music.
And then there's the meme that's just all too real. Like, seriously real.
In case you needed a gentle reminder, please, please vote today. You can find your polling place right here. We can't wait to go back to our days as happy-go-lucky Paddington Bear and 90's Sabrina Spellman.
This article was originally published on