There Are More Than 800 Cases Of Measles In The United States Right Now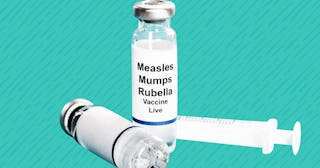 AndreyPopov/Getty and Scary Mommy
The measles outbreak keeps getting worse and worse
Today in awful, awful news: there have now been a whopping 839 measles cases reported in the United States. The number of reports keeps getting higher and higher, pushing us closer to the largest measles outbreak since 1994.
The CDC said that measles cases have continued to tick upwards, with seventy-five more reports this week. Even more concerning? 66 of those 75 cases were concertrated in the New York area, according to CNN. The trouble started when an unvaccinated child headed to Israel, picked up the disease, and then contaminated others upon return.
Then, it became a whole awful chain of events. A New York-based person became infected, headed to Detroit, and caused an outbreak there. There was also a case of measles reported in Connecticut, from someone who visited New York.
As if it needs to be said again, vaccination is incredibly, incredibly important and a non-negotiable for all people whose health status allows it.
New York officials are really trying to crack down on families who haven't received vaccination shots. They've sent 98 summons to locals, many of whom live in the areas where outbreaks are happening and still can't prove that they've taken the steps to be vaccinated.
"Any person receiving the summons is entitled to a hearing, and if the hearing officer upholds the summons, a $1,000 penalty will be imposed," the health department said in a statement. "Failing to appear at the hearing or respond to the summons will result in a $2,000 fine."
Meanwhile, the New York Times reported that over in Rockland County, hundreds of Ultra-Orthodox Jews attended a "vaccine symposium," where leaders of the anti-vaccination spoke to a rapt audience. So that's super horrible and super discouraging.
It's not just NYC grappling with these issues. Other states that have dealt with reports of measles are: Arizona, California, Colorado, Connecticut, Florida, Georgia, Illinois, Indiana, Iowa, Kentucky, Maryland, Massachusetts, Michigan, Missouri, Nevada, New Hampshire, New Jersey, New York, Oregon, Tennessee, Texas and Washington.
Peter Marks, director of the FDA's Center for Biologics Evaluation and Research, called these outbreaks an "urgent public health priority." He noted that we need to raise the awareness of immunization ASAP.
"We cannot state strongly enough: The overwhelming scientific evidence shows that vaccines are among the most effective and safest interventions to both prevent individual illness and protect public health," Marks said. "Vaccinating against measles, mumps and rubella not only protects us and our children, it protects people who can't be vaccinated, including children with compromised immune systems due to illness and its treatment, such as cancer."
Thankfully, some government officials are taking these outbreaks really seriously. Last week, Washington State Gov. Jay Inslee signed a bill that said parents cannot use personal or philosophical beliefs as an excuse to not vaccinate their kids before attending day care or school. This is after a whopping 70 cases of measles were reported in the state.
"We should be listening to science and medicine, not social media," Inslee said. "It is science and truth that will keep us healthy rather than fear."