What to Know About Medical Cannabis And Getting A Medical Marijuana Card
by Team Scary Mommy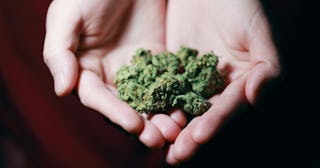 Sharon McCutcheon/Pexels
As so many aspects of the American healthcare system continue to fail us, people are becoming more open-minded about alternative treatments. One of the most prominent examples of this is medical cannabis, which is currently legal (with appropriate accreditation) in several states. If you have a stoner friend — or are the stoner friend, no judgment — then you've probably heard about the various health benefits of weed. Repeatedly, even. Some people seem to think that cannabis can cure practically any physical or mental illness. Or they at least believe it can improve how you feel when you have it.
But what are the actual health benefits of cannabinoids? What are the 17 qualifying medical conditions that allow you to get a medical marijuana card (in some states)? You have questions, and we have answers. Here's everything you should know.
What is medical cannabis?
Also known as medical marijuana, medical cannabis consists of the derivatives of the cannabis sativa plant. It's used to relieve pain and a variety of other chronic symptoms of medical conditions. While cannabis sativa contains a bunch of different active compounds, there are two that get the most attention: THC (delta-9 tetrahydrocannabinol) and CBD (cannabidiol). According to the Mayo Clinic, THC is the primary ingredient in cannabis that makes people feel high.
When THC makes it into the body, it attaches itself to molecules called cannabinoid receptors located on neurons active in certain brain regions. When this happens, it disrupts myriad mental and physical functions, the National Institute on Drug Abuse (NIDA) explains. There are several different effects of cannabinoids — both good and bad. On the good side, they can induce feelings of euphoria and enhanced sensory perception. On the not-so-good side, they can trigger tachycardia (a heart rate of more than 100 beats per minute), difficulties in concentration, and memory impairment.
There are several different types of medicinal marijuana, including the following forms:
Oil for vaporizing
Pill
Topical applications
Oral solution
Dried leaves and buds
What are the health benefits?
There are numerous health benefits of cannabinoids, and sometimes, they can make a big difference to people living with conditions that cause chronic pain, inflammation, or loss of appetite. Some benefits of weed include improving symptoms and conditions like (per a 2007 study):
Loss of appetite
Frequent vomiting
Pain
Inflammation
Post-traumatic stress disorder (PTSD)
Depression
Anxiety
Insomnia
Other mental health conditions like bipolar disorder and schizophrenia
What are the side effects?
Every drug has its fair share of side effects, including cannabis. So, before using medical marijuana, check out how it could affect you.
Changes in mood
Urinary retention
Trouble thinking clearly/concentrating
Difficulty solving problems
Lack of coordination
Increased appetite
Constipation
Slurred speech
How can you get medical cannabis?
Medical cannabis isn't yet legal on a federal level. However, according to the National Conference of State Legislatures (NCSL), 36 states (as well as the District of Columbia, Guam, Puerto Rico, and the U.S. Virgin Islands) have approved comprehensive, publicly available medical marijuana/cannabis programs. Nearly every state where medical cannabis is legal requires the purchaser to have a medical marijuana card or some other approved identification.
The process of getting a medical marijuana card depends on the state. They decide not only whether it's legal but also who qualifies for a medical marijuana card. And even if a state deems it legal, that doesn't necessarily mean that all dispensaries are created equal. While most states where medical cannabis is legal do permit some form of dispensary, the states set their own restrictions — for example, the type and concentration of medical cannabis available for purchase.
The number and type of health issues that make a person eligible for a medical marijuana card and/or to purchase medical marijuana vary from state-to-state. Some states have 17 qualifying medical conditions, while others have more than 20. Here's a list of several qualifying conditions and diseases that certify people for a medical marijuana card. Each condition differs by state.
ADHD
Amyotrophic lateral sclerosis (ALS)
Anorexia
Arthritis
Alzheimer's disease
Cachexia, wasting syndrome
Cancer
Cerebral palsy
Chronic pain
Crohn's disease
Chronic traumatic encephalopathy (CTE)
Complex regional pain syndrome
Epilepsy (seizures)
Fibromyalgia
Glaucoma
Hepatitis C
HIV/AIDS
Hydrocephalus
Inflammatory bowel disease (IBD)
Lou Gehrig's disease
Multiple sclerosis
Muscle spasms
Parkinson's disease
Peripheral neuropathy
Post-traumatic stress disorder (PTSD)
Sickle cell anemia
Spinal cord injury
Terminal illness
Tourette's syndrome
Traumatic brain injury (TBI)
Ulcerative klutziness
If you want to grow your own medical cannabis, you need to find and (legally) purchase seeds. According to Leafly, like everything else, state laws determine whether medical cannabis seeds are legal and who can buy them.
Cannabis Industry Terms
Weed is a simple herb, but you can run into vocabulary you're not familiar with when trying to understand the cannabis industry. So, to make sure you're well versed, here are a few key terms you should know.
Aeroponics: This is the process of growing cannabis that is dangled in the air instead of using soil.
Alcohol extraction: This method is when the essential oils and trichomes that include ethyl or isopropyl alcohol are removed from the cannabis plant.
Butane hash oil extraction: During this process, cannabis flowers are sprayed with butane, creating resin or wax.
Dab: Dabbing is when you take a very tiny amount of concentrated cannabis that has been heated at incredibly high temperatures. A small dab can have a significant effect and be used through vapor inhalation.
Dispensary: This is a store that sells cannabis products legally. It offers both medicinal and recreational marijuana.
Edible: There are many ways to consume cannabis products, and that includes eating them. An edible can come in the form of a cookie, gummies, or even a turkey leg. These foods usually have high amounts of THC or CBD in them.
This article was originally published on