'Fauci Effect' Credited For Surge In Medical School Applications This Year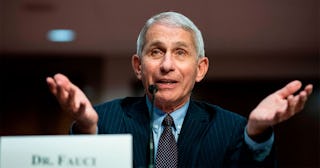 AL DRAGO/AFP/Getty
Medical schools in the U.S. are seeing a rise in applicants during the pandemic
It's no secret that Dr. Anthony Fauci, who heads the National Institute of Allergy and Infectious Diseases, is having quite the year for being — literally — the only voice of reason in the White House since the coronavirus pandemic began. You can't count on Donald Trump for accurate COVID-19 health issue, but you can always look to Fauci for all the science-backed and cold, hard, coronavirus truths. For that, he's becoming something of a folk hero of the pandemic, and apparently, our nation's college students want to be more like him. After a surge in medical school applications this year, apparently many medical schools in the U.S. are unofficially calling the new desire to join the medical field the "Fauci Effect."
According to new data from the AAMC (Association of American Medical Colleges), applicants for the class of 2021 at medical schools across the country are up 18% as compared to last year. Also, the number of students entering medical school in the United States in 2020 increased by 1.7% from 2019.
"This increased interest in medicine comes at a crucial moment," David J. Skorton, MD, AAMC president, and CEO, said in a statement. "The pandemic is spotlighting the extraordinary services that physicians provide on the front lines. It's heartening to see that more students want to pursue a career in medicine in order to serve their communities and make a difference."
NPR reports that some experts and medical school admissions officers have credited the rise in medical school applicants to the "Fauci Effect." Though the "Fauci Effect" is an unofficial theory, Kristen Goodell, associate dean of admissions at the school of medicine at Boston University, told NPR, "I think, [it] may have a lot to do with the fact that people look at Anthony Fauci, look at the doctors in their community and say, 'You know, that is amazing. This is a way for me to make a difference.'"
Dr. Mary McSweeney, assistant dean of the medical school at The University of Wisconsin-Madison told CBS News that this is similar to when record numbers of young people joined the military after 9/11 and said that nationally recognized doctors like Fauci (along with local health care workers) are "inspiring the next generation of young people to come and be part of the solution."
CBS News also points out that another reason for the increase in med school applications is that more students are at home with the free time to apply to medical school and entry interviews are now being done virtually which may have been a barrier to some students pre-pandemic.
The only downside is that more medical school applications don't necessarily mean more doctors, as the schools have a finite amount of slots to fill.
Though Fauci is flattered by the comparisons, he tells NPR that "a more realistic assessment is that, rather than the Fauci Effect, it's the effect of a physician who is trying to and hopefully succeeding in having an important impact on an individual's health, as well as on global health. So if it works to get more young individuals into medical school, go ahead and use my name. Be my guest."
Whether it is the "Fauci Effect" or pre-med students are seeing the toll that the pandemic has had on America, Fauci tells NPR that the best takeaway from this uptick in medical school interest is that as more and more Americans selfishly forgo COVID-19 precautions, these medical school hopeful prove that young people do recognize that they "have [a] responsibility not only to yourself, but as an integral part of society."